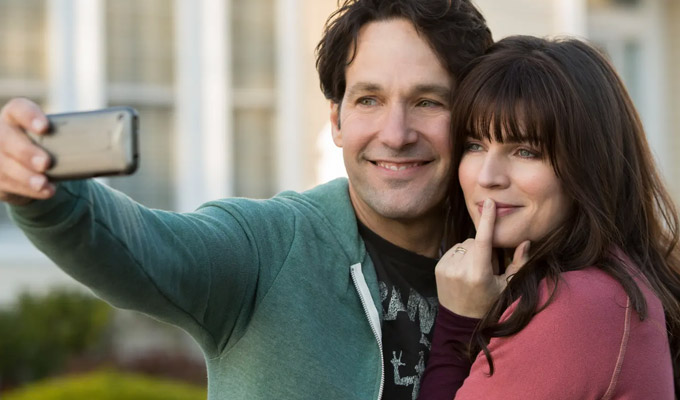 Miles better
The week's best podcasts and comedy on demand.
Living With Yourself
In this new high-concept Netflix comedy-drama, Ant Man star Paul Rudd plays stressed-out Miles, who undergoes a strange procedure at a strip mall spa and wakes to find he's been replaced by a better version of himself.
Aisling Bea also stars in what could be a breakout US role as his wife Kate, impressed by her husband's new vigour.
Eight half-hour episodes just dropped - watch them here
Daddy Look At Me
Comedians Rosie Jones and Helen Bauer this week returned for season two of their comedy podcast delving into the childhoods of their guests. This time around they will be Joe Lycett, Sindhu Vee, Rev. Richard Coles, Pierre Novellie, Harriett Kemsley, Gwyneth Keyworth, Darren Harriott, Charlie Baker, Sofie Hagen, Chris Washington, Jena Friedman, Phoebe Bourke, Jordan Brookes and Kelly Convey. Listen here.
Office Ladies
Office Ladies is a new podcast with US Office stars Jenna Fischer (Pam Beesly) and Angela Kinsey (Angela Martin) in which they talk through classic episodes of the cult sitcom, as well as asking fan questions.
Fischer said: 'So many memories are flooding in as we go back and watch the episodes – many of which I haven't seen since they aired. As we close in on the 15th anniversary of the show, it seemed like a great time to share our stories and behind-the-scenes trivia with fans.'
Listen to the first episode, which is about the pilot, here
25 Sets
Aaron Berg claims to be one the hardest working comics in New York City... and to prove it he set out to break the world record for most comedy sets in one night. You can rent the documentary about his efforts for £1.99 from Amazon here
Stewart Lee 41st Best Stand Up Ever
The comic's 2008 show, in which he mulls his place in comedy after his TV pilot was cancelled and his mother still thinks the 1970s game show host Tom O'Connor is funnier than him., has just dropped on Amazon Prime. Watch here.
Paul Smith
The Liverpudlian comic – and resident host of the city's Hot Water comedy club – has just released his full-length 2017 special for free on YouTube. Here it is:
Published: 19 Oct 2019
What do you think?