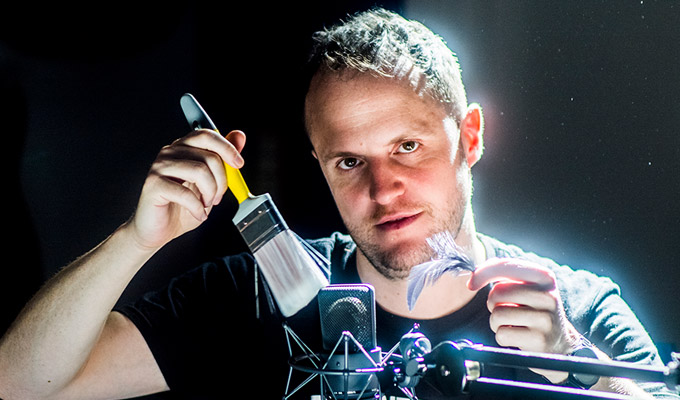 Shush! It's the world's first ASMR stand-up special
Jack Barry is to become the first comedian to release a stand-up special in the style of an ASMR video.
ASMR – or 'autonomous sensory meridian response' – is a mild euphoria, usually experienced as a tingling sensation, when some people hear certain low-level sounds or relaxing imagery.
The phenomenon has triggered a huge wave of online videos that feature whispering, ambient sounds such as crinkling or tapping, and footage of mundane experiences, with some attracting tens of millions of views.
They are designed to be relaxing, not sexual, but that has not stopped Barry from recording his latest show Tango, which all about sex, as an ASMR video.
He told Chortle: 'I'm a big fan of ASMR. I always used to get the tingling when I was a kid but never knew what it was because there wasn't a name for it then.
'Now ASMR is a massive business, and it just seemed like a thing that would work well with comedy. ASMR is all about helping you to relax, so why shouldn't you laugh as well? I know a lot of people find watching live comedy quite tiring and stressful, because they have to bring a lot of energy to make it a good show, so I thought it would be good to make something where people could enjoy some comedy while relaxing at the same time.
'Plus, I noticed lots of ASMR YouTubers like to drop in little jokes and try to be funny, so why not have someone who is professionally funny try their hand at ASMR? It had never been done before, so I felt like someone should be the first to do it.'
Tango is about how the comedian became an 'unofficial marriage counsellor' to his parents and found that it boiled down to sex, and a lack of communication about the subject.
It will be released for free on YouTube on Monday by Turtle Canyon Comedy. Stuart Laws, who runs the company, said: the show was a 'hilarious and unique stand-up comedy show that showcases the brilliance of Jack's writing in a very special way."
Here's a preview
Published: 11 Oct 2019
What do you think?