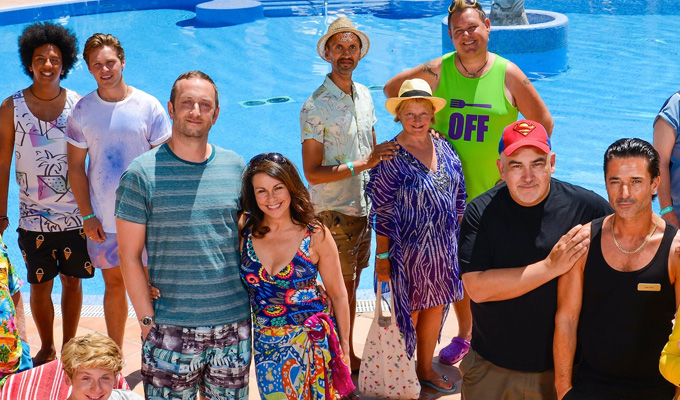 A Benidorm movie? That's fake news
Hopes that Benidorm will be returning as a film have been quashed by creator Darren Litten.
Star Sherrie Hewson, who played resort manager Joyce Temple-Savage in the long-running comedy, sparked headlines when she said a movie was in the pipeline yesterday.
But taking to Twitter, Litten claimed the actress had been 'completely misquoted', and used a Donald Trump meme to say the reports were 'fake news'.
He added that talks about a possible big-screen version had been under way, but 'didn't go as planned'.
However, he left the tiniest glimmer of hope when one fan asked: 'So, no possibility?', responding: 'Very unlikely. But then they said that about the Titanic sinking.'
But he did not comment on Hewson's other suggestion that the cast could reunite for another live tour the first stage show hit the road after ITV bosses cancelled the show last year, following ten seasons on screens.
The Sun had quoted Hewson saying: 'I know it's quite sad that Benidorm is gone but we are going to make a film and I assume there will be another tour. Benidorm will never die.
'We'll make it next year. We used to go out at the beginning of March and finish at the end of July and a film will only take eight weeks so it'll be good.
'It's such a wonderful show… a kind of a phenomenon really because there's never been anything like it and there won't be ever again.'
And that, apparently, includes any movie now Litten has gone on to write the BBC comedy Scarborough, starring Jason Manford.
Published: 28 Sep 2019
What do you think?