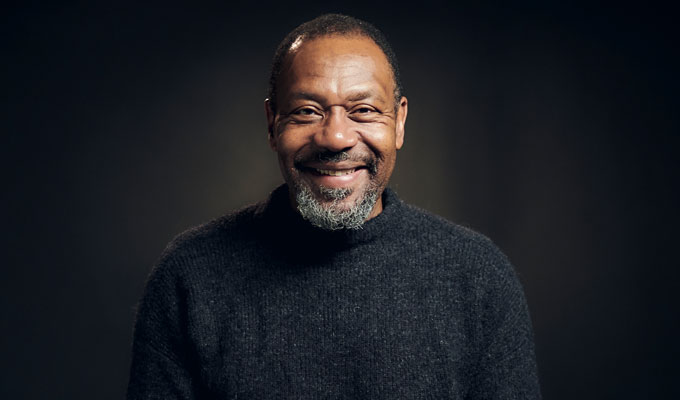 Lenny Henry: How I turned to comedy to beat racist bullies
Sir Lenny Henry has revealed how he first turned to comedy to beat the racist bullies who targeted him at school.
The comic said he realised humour was a 'weapon' he could use to fight back against one particular pupil who tormented him as a teenager.
Sir Lenny's account of growing up in Dudley in the 1970s – when 'the National Front was out there starting trouble if you had the nerve to walk down the street with black skin' – comes in his autobiography Who Am I, Again?
In the first, extensive, extracts published in The Mail on Sunday's Event magazine today – he reveals the events that led him to take part in the ITV talent show New Faces in 1975, which started his showbusiness career.
He recalls the abuse he received from one boy in particular, he called 'Danny Waverly'.
'He'd say hateful things like, "Hey, darky. Oi, nig-nog." Every day, the same greeting… for the sole reason that I was black,' Sir Lenny recalls. Each encounter would end in a fight, despite the young Lenny always coming out worse.
But one day he hit back with his wit, revealing: 'I said something like, "Not this again Waverly. Ya must really fancy me, 'cos you're always tryin' to get me to roll around on the ground with ya…. Why don't we go and have dinner and a movie first? You could buy me a ring – mek it official?"'
A fight still started, but the crowd that gathered started to laugh. 'Waverly still gave me one or two pops to the head, but the laughter made me feel immune,' Sir Lenny recalls. Eventually, someone in the crowd said, "Jesus, leave him alone man." The rest of the crowd joined in, and soon he simply stopped and walked away.
'I had a handle on what to do now. I had a weapon – humour. Result.'
Absorbing himself in TV – especially cartoons and the shows of impressionist Mike Yarwood – he worked up enough of an act to perform in a local club – and after just a couple of performances, he auditioned for New Faces, getting on to the ITV show when he was just 16.
He opened with an impression of Frank Spencer and after the first rehearsal, producer John Pullen suggested: 'Instead of facing the cameras and the audience, why don't you start with your back to them? That way you'll have a "reveal" when you turn around.'
Lenny says that, although he had no idea what a 'reveal' was, he did as he was told. He adds that, when his act began, 'the audience laughed a bit. I hadn't done any gags yet… just babbling. Then I turned round. Talk about impact; corsets burst open, wigs flew off, eyeballs popped out.
'In an instant, my life had changed for ever… I wasn't just another impressionist. I was a young Afro-Caribbean, British-born lad from Dudley. I was black. And they hadn't known.'
His success led to a stint on the Black and White Minstrel Show, and Sir Lenny recalls his discomfort at being the only real black person in the room – yet being too inexperienced to know how to deal with it.
And he believes he was only employed so that producers of the show – which entirely comprised white entertainers blacking up – could demonstrate they weren't racist.
'The dislocation I felt as I walked out, looked at the audience and saw no one resembling me was palpable,' he said.
• Read the full extracts from the memoirs here. The book, Who Am I, Again?, can be ordered here ahead of its publication on October 3.
Published: 22 Sep 2019
What do you think?