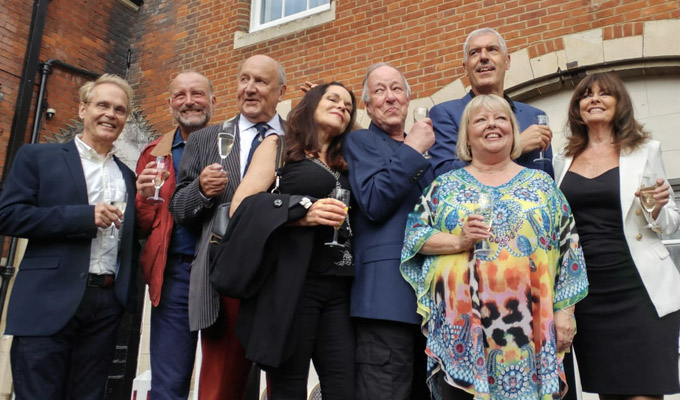 Allo Allo cast reunite
Surviving stars of Allo Allo yesterday reunited to unveil a blue plaque marking 35 years of the wartime sitcom.
The tribute was put up at Lynford Hall, a Norfolk country house that stood in for Nouvion town square and the exterior of René's café.
Pictured above, left to right, are: Richard Gibson (Herr Flick); Nicholas Frankau (Carstairs); John D. Collins (Fairfax); Francesca Gonshaw (Maria); Guy Siner (Gruber); Arthur Bostrom (Crabtree); Sue Hodge (Mimi); and Vicki Michelle (Yvette).
The event – which was billed as the first ever full surviving cast reunion – took place on what would have been co-creator David Croft's 97th birthday.
Allo Allo's pilot episode aired on December 30, 1982, and the sitcom would go on to run for a decade, with a total of 85 instalments.
Yesterday's unveiling – which raised money for the Actors' Benevolent Fund – was organised by the British Comedy Society, whose director Aaron Brown said it was 'great to be able to celebrate a brilliant staple from BBC sitcom heritage'.
Built in the 1850s and now a hotel, Lynford Hall also featured Croft and Perry's other comedies You Rang My Lord and Dad's Army, most of which was filmed just ten miles away in the village of Thetford
Published: 8 Sep 2019
What do you think?