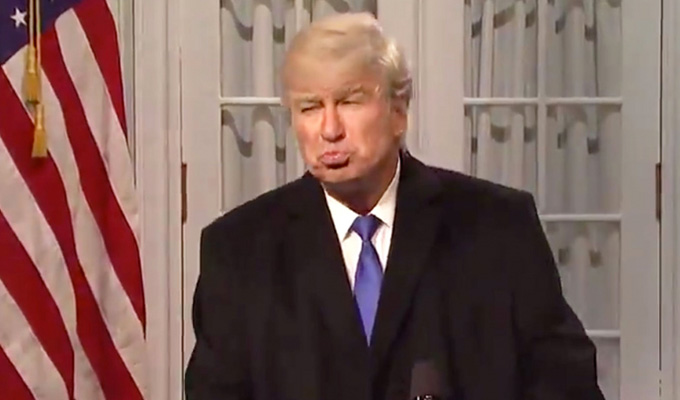 SNL boss: We're validated by Trump's hatred

A Saturday Night Live producer has said he feels 'a little validated' every time Donald Trump gets upset at the show.
The president has often become enraged about Alec Baldwin's portrayal of him and has even called for 'retribution' against the 'hit job' from what he considers a biased broadcaster.
But speaking at the Edinburgh TV Festival yesterday, Erik Kenward said that such a reaction is 'something you kinda find a little validating'.
He insisted the NBC show – which is coming to the UK in February when the new Sky Comedy channel launches – tried to mock both sides of the political divide, Although he admitted that keeping a balance was difficult because of Trump's constant headline-grabbing actions.
'We try to hit both sides as much as possible,' he said. 'But that was an easier ideal to maintain three or four years ago.
'It's hard. We don't want onto be seen as a shrill for one side or the other. And a sketch written from an ideological point of view isn't going to be funny. But we're going to make fun of what's ridiculous.'
However, he also said that Americans were starting to tire of the constant 'background radiation' of his attention-seeking presidency.
Kenward said he recently went to a Second City comedy night, where the president's name was never mentioned. And while he said his show would never go that far, he added:'I felt that was emblematic of something. I think we're starting to feel among Americans in general this sort of fatigue.'
Although SNL is credited with forming public opinion, he said the writing team try to put that out of their minds when they are putting together each week's show. 'If you think how this is going to shape thought, it's paralysing,' he said. 'You can't think of it from the place that the president is going to see it, because then you're already having a meta conversation and that doesn't work. Also, you don't have the time for that because the show moves so fast.'
He explained the frenetic schedule required to create a 90-minute show each week admitting that broadcasting it live 'is adding a whole other level of difficulty'.
However, he said that 'the advantage is that it can change at the last minute, and there is the excitement of it, and there is an "eventiness" about it as everyone is in the same moment. And then there is the Nascar element that they are watching and waiting for the crash.'
Around 35 sketches are written each week, of which about ten are produced. And the live element means writers of skits in the second half of the show are asked to trim their work – 'or worse expand it' – while the first half is airing if the programme is not running to time.
Comedian and SNL writer Anna Drezen said that was a pressurised task, but added: 'Sometimes cutting a minute out and losing yours darlings is better. People rarely go, "I wish that sketch had gone on longer."'
Asked to give a tip to anyone who wanted to become an SNL writer, Kenward said: 'I would encourage people to get up on stage and perform. I didn't do that, and I regret it every day. There's no replacement for being on stage.'
He also said that he had not recruited anyone, as actor or writer, solely on the basis of work they put out online.
'We still do a lot of scouting through traditional channels,' he said. 'Often now you'll see someone and they'll have some videos online that will help round out your idea of them. But I don't think we've found anyone purely online. But I can think of people we've seen online and then we've gone to see.'
In February Trump tweeted: 'Nothing funny about tired Saturday Night Live on Fake News NBC! Question is, how do the Networks get away with these total Republican hit jobs without retribution? Likewise for many other shows? Very unfair and should be looked into. This is the real Collusion!'
Published: 23 Aug 2019
What do you think?