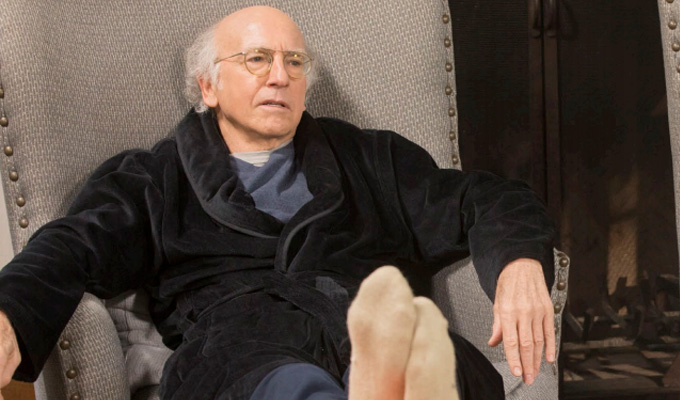 Sky to launch a channel dedicated to US comedies
Sky is to launch a new channel dedicated only to US comedy shows.
Sky Comedy will air the next series of Larry David's Curb Your Enthusiasm and Ballers starring Dwayne Johnson as an American football manager – as well as Saturday Night Live, Last Week Tonight with John Oliver and a back catalogue of old favourites.
The channel will launch in February and include scripted comedy output from from HBO, NBC and Showtime.
New shows heading for the channel include:
Mrs Fletcher: A comedy about a divorced woman (Transparent's Kathryn Hahn) who jumpstarts her love life by adopting a sexy new persona.
The Righteous Gemstones: The new show from Eastbound & Down and Vice Principals creator Danny McBride tells of a famous televangelist family with a long tradition of deviance and greed. He also plays lead character Jesse Gemstone, who sees himself as a maverick expanding the empire his father Eli (John Goodman) built up.
A.P. Bio: A disgraced Harvard philosophy professor is forced to return to Toledo, Ohio, to work as an advanced placement biology teacher. But rather than impart knowledge, he uses the class to getting revenge on his rival, Comic Patton Oswalt co-stars as the school principal.
Sunnyside: About Garrett Modi, a former New York City councilman, who finds his calling when faced with immigrants in need of his help and in search of the American Dream
Sky Comedy will also host The Tonight Show Starring Jimmy Fallon, while repeat series will include Will & Grace and Parks And Recreation.
A similar channel for crime shows including I Love You, Now Die and The Disappearance of Susan Cox Powell, will launch in October, the broadcaster also announced today. Both channels will also be available on Now TV.
Zai Bennett, managing director of content at Sky, said: 'Sky Crime and Sky Comedy are fantastic additions to our entertainment portfolio, providing our customers with two new destinations for their favourite shows.
'Sky Comedy is an exciting new proposition for Sky customers, offering them a daily dose of the best US comedy which will sit alongside our expanding slate of Sky Original comedy on Sky One.
'By investing in the best of the US as well as doubling our investment in original drama and comedy, we are making Sky an unbeatable destination for the best range of premium TV.'
Published: 21 Aug 2019
What do you think?