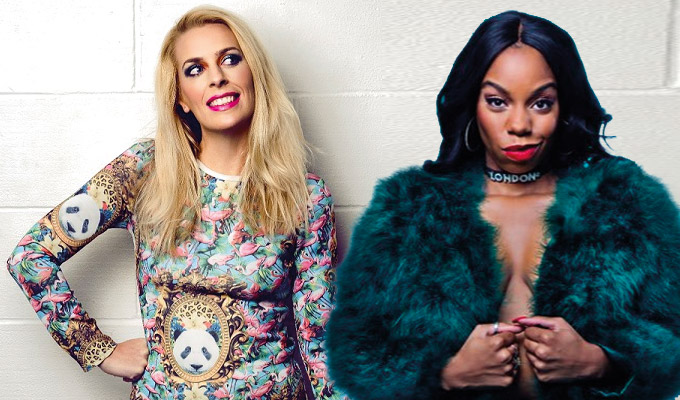 New podcasts for Sara Pascoe and London Hughes
Sara Pascoe and London Hughes have both announced new podcasts today.
Pascoe is to host an eight-episode series to accompany her new book Sex Power Money, while Hughes is launching a show about dating and relationships on Spotify.
On her podcast, which launches on August 12, Pascoe will interview people who have experience around sex work, stripping and porn. The line-up includes author Hallie Rubenhold, sex workers Charlotte Rose and Eliza Harper, comedian Sophie Duker, reproductive health expert Annabel Sowemimo and porn director Anna Arrowsmith.
It ties in with her book about the biology behind sex and masculinity, the history of sexual representation and the way all human interactions are underwritten by wealth.
Niriksha Bharadia, producer of the podcast and senior marketing executive at Faber, said: 'Sara's brilliant book covers a vast range of interesting ideas around traditionally taboo subjects.
'Launching the podcast allows further exploration and discussion of these important issues with a variety of guests. We hope listeners will gain deeper insight into the social and political aspects of sex work, stripping and porn.'
Pascoe added: 'These podcasts contain the most interesting and enlightening conversations I've ever had in my life - I really hope listeners find them interesting too. And they're a great accompaniment to the book.
The weekly podcast will be available on iTunes, Spotify and Audioboom from August 12, while her book is out on August 29 (Order here).
Hughes's podcast, London, Actually, will launch on September 9.
It's is described as 'a dating show for the podcast era', as hopeful romantics searching for 'the one' are set up, and speak on the phone for the first time. Hughes listens in on the call to narrate and critique the conversations.
The comedian, currently performing To Catch A D*ck at the Edinburgh Fringe, also gets relationship advice from her mother, while each episode also includes sketches based on her No Filter online series about her disastrous dating history, and guests including Phil Wang, Dane Baptiste and Francis Boulle.
Here she is in an extract from her Edinburgh show at Chortle's Fast Fringe
Published: 8 Aug 2019
What do you think?