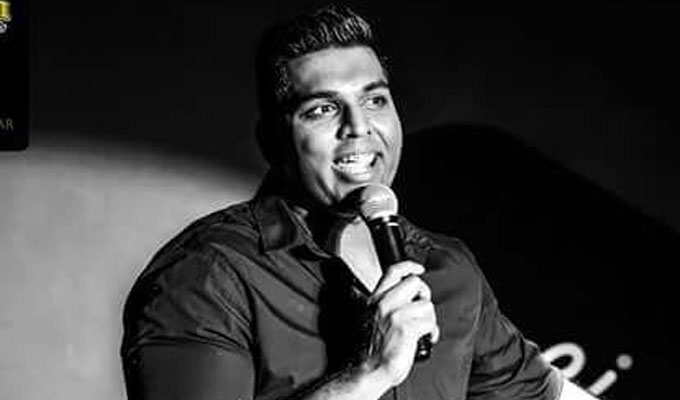 Comedian dies on stage at 36
A comedian has died of a heart attack while on stage – after telling the audience he was suffering anxiety.
Manjunath Naidu, 36, stopped his set to sit on the bench next to him before collapsing on to the floor, according to media reports.
The audience at the Signature Hotel in Dubai thought his collapse was part of the show on Friday night. Paramedics were called but could not revive him.
His partner Grace Chng was at the gig, which Naidu was headlining. She wrote on Facebook: 'Manjunath Naidu my partner, one of the most amazing stand-up comedian[s], incredible improviser, and great person with a big heart, has passed away on stage, doing what he loves best, making people laugh.
'Right up to his last moment, I and many others thought it was an act. He had a cardiac arrest during the performance ... he was surrounded by a great audience [and] loved ones.
'He will be in our memory as Mango, and as the man who touched the lives of countless people. He changed my life and I became a comedian and improviser that he thought I was meant to be.'
And after being overwhelmed by messages of support, she added: 'There's so many tributes for Manju that I am sure he is grinning from ear to ear. He ended with the high note he has always wanted.'
Fellow comedian Miqdaad Dohadwala told the UAE-based Khaleej Times: 'He was talking about his father and family. Everybody was enjoying. And then he got into a story of how he suffers from anxiety.
'A minute into the story he collapsed. People thought it was part of the act. They took it as a joke as he was talking about anxiety and then collapsed.
'Everyone rushed to the stage. He stopped breathing in our hands. The paramedics reached within 20 minutes but couldn't revive him. The man killed his performance and his performance killed him.'
Published: 23 Jul 2019
What do you think?