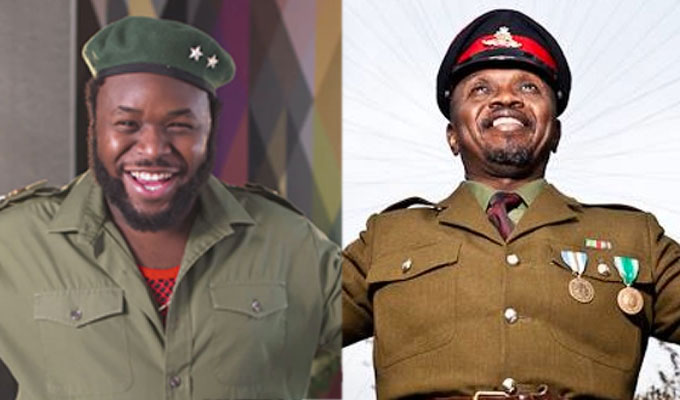 Dictators at war!
A comedian has hit out at E4 for 'stealing' an act he has spent a decade honing on the live circuit.
Last night the broadcaster announced that Famalam and Sliced star Samson Kayo is to play a fictional African dictator called Colonel Banjoko, left, in a new spoof talk show.
However Benjamin Bello has been performing a similar act live called President Obonjo, right, in the clubs for ten years.
Bello called the announcement 'shattering news' after the 'blood sweat and tears' he has put into the act.
He told Chortle: 'E4 and BBC Studios have stolen my act and created a TV pilot. I have been developing the character President Obonjo on the comedy circuit for nearly ten years. I have carefully crafted the comedic personality of an African dictator adrift in the UK and the similarities to the E4 pilot announced yesterday are deeply worrying.
'I am gutted by this latest development and I am going to fight this with all I have got. I created this idea it is my concept and I am the real African dictator – the only one in the UK. This is stealing 10 years of work.'
'I am taking professional advice.'
BBC Studios said the character was their idea, not Kayo's.
A spokesperson said: 'Colonel Banjoko is an original character, created by BBC Studios for Samson Kayo and we are delighted he is taking on the role.
'It was inspired by a general in a recent coup who asked everyone to remain calm on the TV and the BBC Studios Comedy team approached Samson with the idea. Viewers will get the opportunity to see it for themselves if the pilot is taken to series.'
But Bello has also called on the comedy circuit to help, posting on social media: 'Folks this is war, if they think I am going to work this hard and someone will steal my act for a sitcom, they are having a laugh.
Fellow comedians were quick to rally around, with scores of supportive and outraged messages on social media.
Dane Baptiste said: 'Samson is my homie/ace boon but this is clearly a rip off of @realObonjo, a character that we on the circuit know and love. And we know nobody there came up with it because, well, you know…'
Pope Lonergan said: 'Bello has spent a decade honing this character; performing here, there and everywhere; putting in countless hours, good gigs and bad, to ensure he can provide something special.
He's shown respect for the craft, respect for the community, and I can't stand back and watch his labours get eradicated because one commissioner is creatively barren and needs to magpie from people who have put in the work.
'We shouldn't tolerate such brazen creative theft.'
Kae Kurd wrote on Twitter it was an 'absolute rip off of @realObonjo. No disrespect to Samson at all but yeah this a total rip off of a man's act that he's been don't fit 10 years on the circuit'
Sean Patrick said it was 'bloody outrageous. Obonjo has been going for years and is at a level where people in the industry are aware of him. Even an hour's research would have revealed that this concept is someone else's act.'
Ignacio Lopez added: 'I saw a story about @E4Tweets's new 'African Dictator' show & was about to congratulate @realObonjo, then I read it & realised it's someone else. I find it hard to believe nobody flagged up the blatant similarities at any point during the development.'
And Richard Stott said: 'Make no mistake @realObonjo has had his act stolen. Imagine a whole act that you've been gigging with for years taken away because a more famous comic liked the idea! That's devastating.
I don't know how a fellow comic could live with themselves after this. Theft is theft.'
Bello thanked the comedy community for their support.
In The Colonel Banjoko Show – which is being made by BBC Studios, Kayo plays the erstwhile military dictator of the small African nation of Tanzangola, who fled to London after a civil war with spoils from his nation's health budget.
Now he is now living out his dream of presenting his own late-night entertainment show complete with celebrity guests, music, games and summary executions.
The broadcaster said: 'With his only previous TV experience being lengthy diatribes on Tanzangola's state-owned news channel, Colonel Banjoko is the perfect person to host an E4 entertainment show. He is bombastic, charming, utterly self-obsessed and highly dangerous and his celebrity guests are kept on their toes by his unique and unpredictable style of interrogation.
'In many ways, he is a modern-day Mrs Merton, only armed to the teeth and with a pending trial for war crimes at The Hague.'
Chortle has approached also Kayo's agent for comment, but they have not yet responded.
Here is Bello performing his President Obonjo character at the Comedy Store last year:
He will also be performing in character at the Edinburgh Fringe, in his third show Goodbye Mr President, which will be at the Voodoo Rooms daily at 9.05pm.
Published: 18 Jul 2019
What do you think?