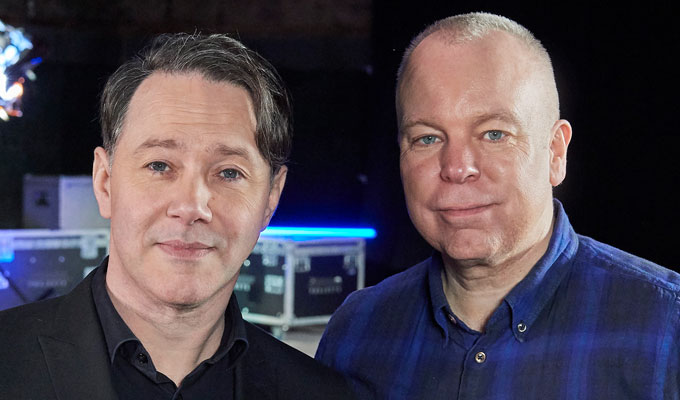 Revealed: The premise of one of the next Inside No 9s
One of the next episodes of the next series of Inside No 9 revolves around two magicians, its creators have revealed.
Steve Pemberton and Reece Shearsmith are seen filming the episode during an episode of the South Bank Show about their work which airs later this month.
Pemberton explains on camera: 'Today we're filming an episode called Misdirection, which is a handy subtitle for Inside No 9 generally.
'It's about magic and it's about a magician played by Reece who's shown a trick by my character, a down-at-heel club magician called Willy Wando, and then all kind of mayhem ensues.'
Footage shows Pemberton staggering though a warehouse set with a sheet over his head, having apparently received a hefty blow to the skull, while being strangled by Reece from behind. It's 'a bit of blood, bit of fighting. Usual Inside No 9 fare, really,' Pemberton said,
And Shearsmith added that the episode was such a joy because 'I'm a massive magic fan, Ive always been obsessed by magic since I was four years old.'
Looking around the set, adorned with posters for his character's stage act, he said: 'I'll be taking them home. I'm absolutely loving it; I'm in my element, I've written my heaven. I could literally live here. So that says something about me.'
Quite what happens in the fight scene is unknown, but one fan has worked out that every time one of their characters dies in the series, it is always Pemberton killed by Reece.
'I never kill you,' Pemberton laments to his comedy partner on camera. 'Maybe in the series we'll changed that up.
'That's never going to happen,' Shearsmith counters.
'I will one day. The last ever episode. Episode 9, Series 9 I'll kill you in nine ways – like a cat with nine lives'.
The hour-long film tracks their career from the days of the League of Gentlemen, and even before.
Pemberton and Mark Gatiss first met at drama school in Bretton Hall in West Yorkshire, and 'bonded instantly – wwe started writing sketches together. '
Then they were intrigued by a new arrival in the year below them.
'They always put up photographs of the following year's intake, and we went to have a look,' Pemberton recalled. 'There was this figure sitting there with his chin up and his arms folded and this look on his face of superiority, and underneath istsaid Reeson Shearsmith And we thought he's going to be the biggest dick or we're going to love us because he's just putting that on, trying to make us laugh. We sought him out and we all became friends.'
Pemberton added that he never like the name The League Of Gentlemen, adding: 'I think we should have been called the Porn Dwarves.'
But he told interviewer Melvyn Bragg: 'You would never have done a South Bank Show on thePorn Dwarves!'
Shearsmith also reveals that one of the team's most enduring creations, cold-hearted restart officer Pauline, was not only based on a real woman he met while on the dole, but 'we never even changed the name.'
'She was worse [than the character] and she was in Wood Green High Street. I don't know if she ever found out that we used he… I can't believe she's not going to come out of the woodwork at some point and sue us. I hope not. It's a homage!'
Series 5 of Inside No. 9 is expected to air on BBC Two later this year. Previously annoucned cast include Jenna Coleman, Maxine Peake, David Morrissey, Jill Halfpenny, Ralf Little, Phil Davis, Steve Speirs, Tom Goodman-Hill,Fionn Whitehead, Debbie Rush, Ioanna Kimbook, Kadiff Kirwan and Dipo Ola.
• The South Bank Show on Steve Pemberton and Reece Shearsmith is on Sky Arts on Tuesday July 30 at 10pm.
Published: 19 Jul 2019
What do you think?