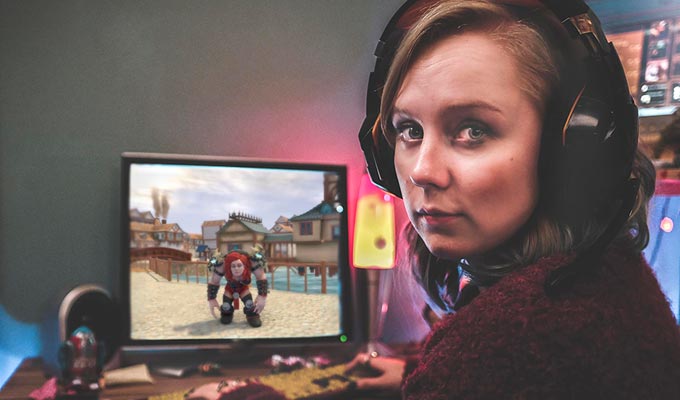 Dead Pixels gets a second series
Dead Pixels is returning to E4, Chortle can exclusively reveal.
The gaming comedy, which revolves around the main characters playing the fantasy role-playing game Kingdom Scrolls, looks set to return to screens next year.
Charlotte Ritchie is returning – alongside Alexa Davies, Will Merrick, David Mumeni and Sargon Yelda as the 'GG gamers' Meg, Nicky, Russell and Usman – making attempts to truly be AFK (Away From Keyboard) and build lives in the real world, which ironically draws them further back into their online world.
The situation becomes even more emotionally complicated for the gang with Ritchie's non-gamer Alison still stuck on the sidelines.
Writer Jon Brown said: 'I'm very excited to be inserting another credit into the giant Dead Pixels arcade cabinet, and look forward to continuing the adventures of Meg and Nicky, in both the game and non-game worlds. Expect more fire, death and cow slaughter.'
Commissioning editor Jon Petrie added that the 'fantastically funny' show 'proves if you're a talented comedy writer you can absolutely justify sitting on your sofa playing computer games as "research".'
The series – which is executive produced by Peep Show creators Sam Bain and Jesse Armstrong – launched in March with an audience of 467,000 viewers and ended with 385,000
Press reaction to the series was overwhemingly positive, with the Guardian calling it 'as addictive as World of Warcraft' and 'gut-bustingly funny'.
And the Herald called it 'rude and funny, particularly when Meg is over-sharing on the subject of her planned sexual conquest of Russell', adding that 'the show's USP is its extensive use of animated sequences to show the friend's in-game avatars interacting. It's a neat touch, particularly when real-world discussions find their way into the mouths of, say, a pink lion with a lime green mohawk'.
You can read Chortle's review here.
- by Jay Richardson
Dead Pixels production credits
Made by: Various Artists Ltd
Executive producers: Sam Bain and Jesse Armstrong
Producer: Tanya Qureshi.
Commissioned by: Fiona McDermott, head of comedy for Channel 4, and Jon Petrie, commissioning editor for Channel 4 comedy
Animators: Keyframe.
Published: 17 Jul 2019
What do you think?