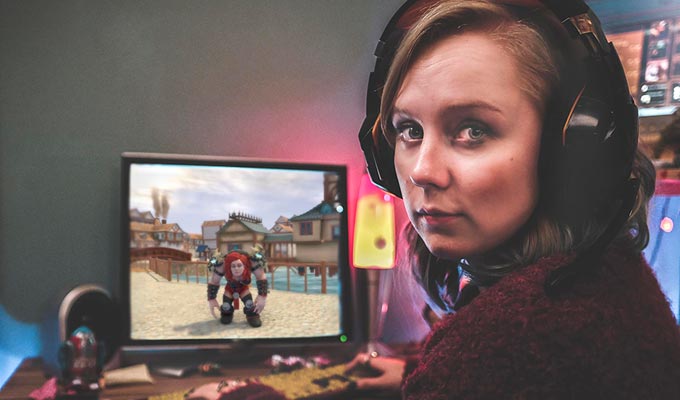 Dead Pixels
There are perils in making a comedy about gaming. After all, the core market may be too firmly glued to their screens to tune in, while the geeky image of the pastime that endures even as more people partake could be a turn-off for non-players.
Creator Jon Brown, who's written for Fresh Meat and Veep, certainly doesn't set out to mock the gaming culture. And nor should the partial online setting which gives Dead Pixels its USP put anyone off. For this is simply a comedy about three pals who use their virtual world, with its orcs and dragons and green-skinned Amazons as a hangout. Castle Blackfinger is their Central Perk.
But they do become thoroughly immersed in their alternate world – and the very first scene shows Meg dragged away from her real-world friends to defend the team fortress.
Also on her side are Nicky (Will Merrick), who probably fits the outside image of a gamer – a nervous, intense agoraphobic living vicariously through his avatars – and Usman (Sargon Yelda), whose online life is a distraction from his obligations as a parent, which he largely ignores.
With the need to set the scene in the first episode the characters - perhaps aptly enough – a little two dimensional, but they are all very likeable.
Meg is especially narrowly drawn, being driven – at least outside the game – by her unquenchable desire for sex. While it's certainly refreshing to see a female character own her sexuality in such a way, some of her lines are so laddish they seem to have been snaffled from the Inbetweeners. 'I want him to demolish my entire downtown area,' she proclaims of one object of her desire.
Luckily Alexa Davies, previously seen in Raised By Wolves and Mamma Mia, does a great job at fleshing out her role beyond the lust, while remaining ever-randy.
It's Meg's libido that results in her inviting her new workmate Russell (David Mumeni) to join the online world of Kingdom Scrolls, even if, as a 'n00b' he's quickly mocked by the others for his lack of etiquette in their world. He gets giddily excited by the possibilities the digital world offers, such as the ability to build a tower of cows or make it look like his character is masturbating. This may be great fun, but fun is not the done thing– this team take their empire-building very seriously indeed.
At its heart, then, Dead Pixels is a much an old-fashioned comedy of manners as it is an affectionate look at a friendship group with all their insecurities and shortcomings, which they forget for a few hours each night as they enter their alternate life.
This is a scenario that should resonate beyond gamers, and Dead Pixels' first episode is certainly funny and involving enough to entice any viewer, whether they've ever picked up a controller or not, to find out what happens next to these flawed outsiders.
• Dead Pixels is on E4 at 9.30pm tonight
Review date: 28 Mar 2019
Reviewed by:
Recent Reviews
What do you think?