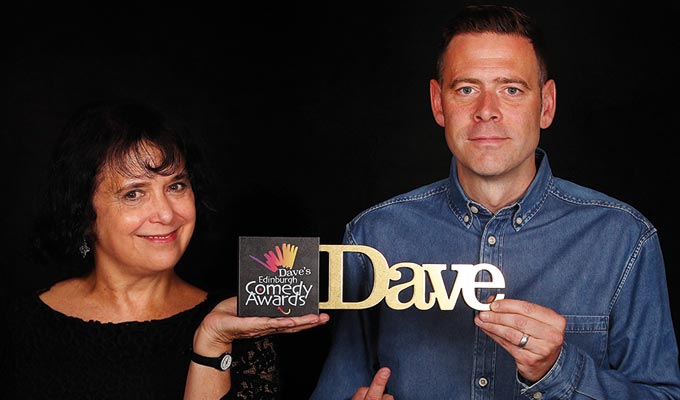 Comedy's gender imbalance will vanish 'in 5-10 years'
Female comedians will achieve parity with their male counterparts at the Fringe within five to ten years, Edinburgh Comedy Awards producer Nica Burns says.
She calculated that around 30 per of the solo comedy shows at this year's festival came from women – a figure than compared favourably with a lot of high-profile professions.
Speaking at the launch of the newly-retitled Dave's Edinburgh Comedy Awards yesterday, Burns said: ' 'There will come a time when it will be 50-50 on merit. That may be in the next five years, but definitely in the next ten.
Burns said the pace of change depended on comedians spending years on the live circuit honing their craft, but added that the increased representation of women on stage and screen would have a knock-on effect.
'Ten years olds today will see a very different comedy landscape,' she said. As we know, role models breed more people trying.'
Luke Hales from of Dave – pictured above with Burns – said he too was committed to having a diverse range of comedians on his channel – being keen to mitigate the laddish perceptions of its name.
Separately, Hales also said he was keen to find new sketch shows, having found success in panel shows and in narrative comedies.
He said that ears about the cost of making sketch shows, and the fact that they can divide audiences – typically cited as fears holding back the genre on TV – were not what was stopping Dave.
'We're ready to commission,' he said. 'But the scripts are just not coming through the door.'
Burns added that sketch troupes often spilt up before getting to the stage where they might be TV-ready, as the financial considerations of having to split modest live fees between a number of performers take their toll.
Published: 12 Jul 2019
What do you think?