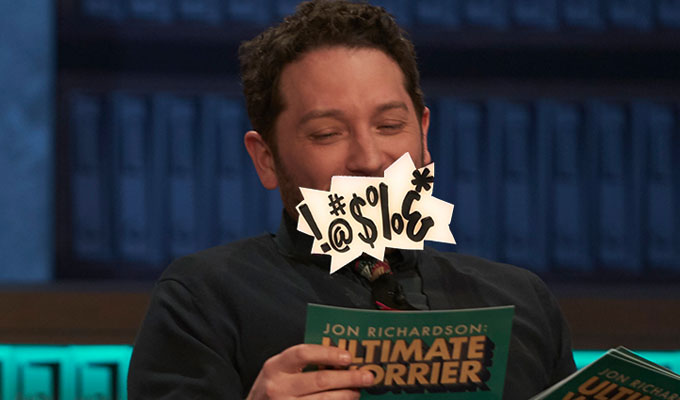 Where the *&!@ was the swearing!
Time was when viewers complained about swearing on TV - now they are upset when it gets bleeped out.
Fans have expressed their frustration that many four-letter words were obscured in Jon Richardson: Ultimate Worrier when it returned to Dave last night.
The show aired an hour after the 9pm watershed – and immediately after Taskmaster, which did not have its language censored.
Viewers took to Twitter to complain that the bleeping ruined several of the gags from the panel, which comprised Lucy Beaumont, Kiri Pritchard-McLean and Joe Wilkinson.
Stephen O'Hara posted: 'The censoring of the swear words on #UltimateWorrier is really off putting. Bad start to new @RonJichardson series. Im gonna stop watching this episode and hopefully catch a repeat uncensored?'
Katee Baptiste added: 'Wtf is all the bleeping in #UltimateWorrier? It's passed the watershed and it's actually really annoying!'
Another fan posted: 'Any chance of an uncensored (language-wise) version of #UltimateWorrier? Why leave in censored jokes?'
Neil Parkes was one of several viewers who pointed out that there was harsher language in the earlier show, saying. 'How come there's so much censoring on #UltimateWorrier?? It's no worse than the language on Taskmaster, and that was fine.'
Even the version of Ultimate Worrier on the on-demand service UKTV Play is bleeped, despite being behind a 'parental control' barrier.
Broadcaster UKTV said the wrong version of the programme was used in error.
A spokesman told Chortle: 'We apologise to any viewers who were disappointed by the bleeping in last night's episode.
'We are looking into what happened as the pre-watershed version was not the one scheduled, and we are working to get the correct version onto UKTV Play as soon as possible. The episode will be repeated this Sunday, 10pm on Dave.'
Published: 4 Jul 2019
What do you think?