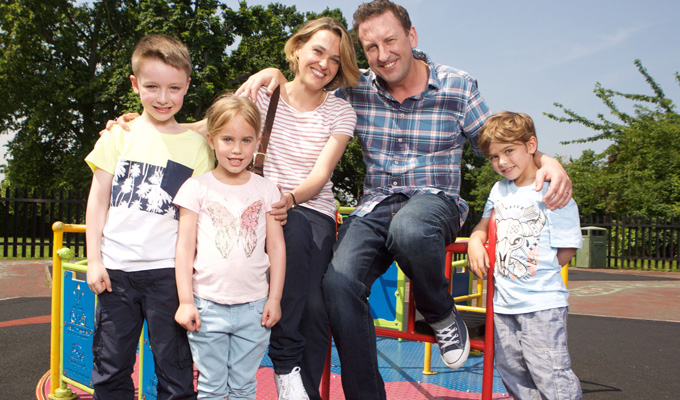 BBC orders THREE more series of Not Going Out
The BBC has ordered three more series of Not Going Out – taking it into its 13th season.
Lee Mack reveals the news on tonight's Graham Norton Show, saying: 'So, now we've got to mine more from our real lives.
'The problem with mining things from your own life is that you then watch it with your wife. So, the guy I write with and I have a rule now that we just blame the other person and say things like, "You won't to believe this, but they also do that thing in bed!"'
The new commission is a remarkable turnaround for a comedy that was originally axed in 2009, after its third season, before the Corporation had a change of heart.
In early series, the show was based around Mack's character – also called Lee – trying to woo his uninterested, posher housemate Lucy, played by Sally Bretton. But for series eight, which aired in 2017, the setting was shifted seven years forward, to portray them as a married couple with three kids.
The recurring cast currently includes Geoffrey Whitehead, Deborah Grant, Bobby Ball, Hugh Dennis and Abigail Cruttenden.
This is not the first time the BBC has block-ordered the Avalon-made show. In 2016 series nine and ten were announced even before series eight had aired.
Mack also tells Norton about his film debut in Horrible Histories: The Movie – Rotten Romans, in which he plays Decimus.
He says: 'It's massive and didn't realise just how big it is until I was offered the part and my kids said I had to do it.'
After being shown a clip, he adds excitedly: 'I've never been in a film before and haven't seen any of it yet.'
Other guests on the show include Fleabag actor Andrew Scott, and Stephen Fry - who reveals that he once considered becoming a priest.
The former QI hosts says: 'When I was a teenager I thought about it. I love churches – the music and the architecture. I fancied the clothes and I knew I could deliver a fantastic sermon and I even went to talk to a Bishop about it. We decided I would make a wonderful priest if it wasn't for the one small problem that I didn't believe in God!'
And Scott shares an odd story that his newfound fame as Fleabag's 'hot priest' has brought him.
He says: 'I had a strange encounter the other day. I was in the park going over my lines and this little man was just standing staring at me. Eventually he said, "My wife really fancies you, can I have a selfie?" He had a mop in one hand and when we had taken the photo he just carried on staring while making the mop jiggle around. I wondered if the mop was his 'wife'? It was really weird...'
• The Graham Norton Show airs at 10.35pm tonight on BBC One.
Published: 7 Jun 2019
What do you think?