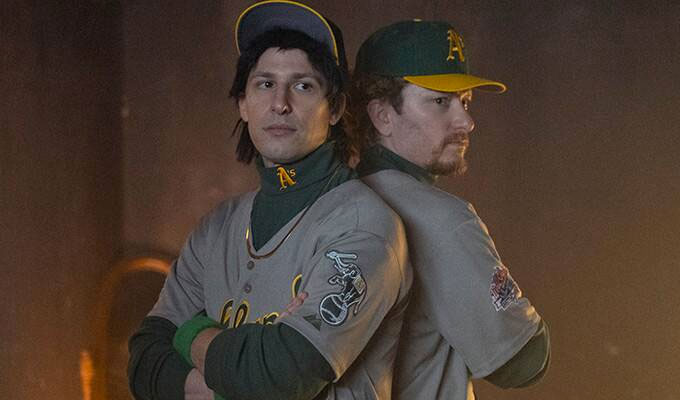 The Lonely Island knock it out of the park
The week's comedy on demand.
The Lonely Island Presents: The Unauthorized Bash Brothers Experience
In this new half-hour Netflix show, released entirely out of the blue, Akiva Schaffer and Andy Samberg play Jose Canseco and Mark McGwire, two Oakland Athletic baseball players from the 1980s. Their story presented as a series of music videos for the rap album that the sportsmen wrote and performed in the 1980s.
Rolling Stone called it a 'concept LP on steroids' while The Guardian said it was 'a dizzying, hilarious half-hour of television'.
Watch here – and here's one of the tracks, Oakland Nights:
Mark Steel and Jeremy Hardy: Two Men on a Bench
Radio 4 Extra has been digging into the archive to celebrate Jeremy Hardy after he died in February at the age of 57. And here's an oddity from 2008 that shows him at his most relaxed, as he just chats with his old mate in a park in Crystal Palace, South London, the simplest of formats, but very engaging. Listen here
Those Box Boys
A new podcast from two Spanish-based Brits full of surreal, sometimes improvised sketches such as Stephen Hawking auditioning for Taxi Driver, The Hulk going for a job interview and Two Broke Popes.
It's the creation of stand-ups Richard Watson and Shaun McCallig, who is also a cartoonist with regular contributions to Viz including last year's Dara O'Briain: Scientific Comedian. Listen here - or get a taste from some of the scenes which they've animated:
The Funny Life Of...
Julia Sutherland returns with a new BBC Radio Scotland series in which she interviews comics about what makes them tick. So far she's chatted to Elaine C Smith and wrestling star and comedy actor Grado. Listen here.
Wanda Sykes: Not Normal
Wanda Sykes this week released her first Netflix stand-up special, with a title that describes Donald Trump's presidency. It also covers the opioid crisis, reality TV, racism and the secret she'd take to the grave. Watch here.
Published: 25 May 2019
What do you think?