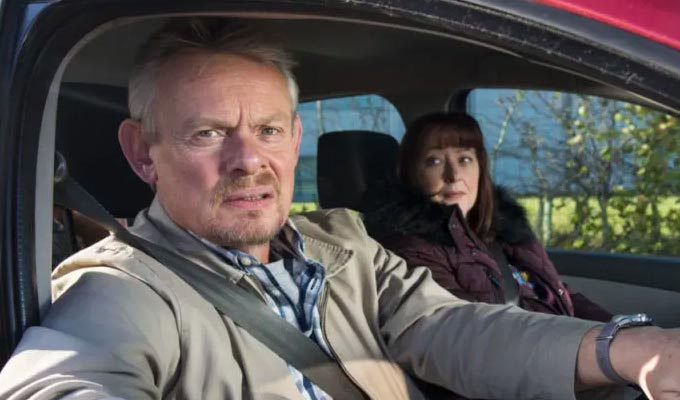 BBC axes Martin Clunes sitcom Warren
Martin Clunes's BBC One comedy Warren has been axed after just one series, Chortle can reveal.
In what was his first sitcom role in nine years, Clunes played an irritable driving instructor unhappy with his job, at having to move up north and look after his two teenage stepsons.
But the show was largely slated by critics and almost halved its audience over the six episodes that aired between February and April.
Writer Jimmy Donny Cosgrove, who is also a stand-up, broke the news on Twitter, posting: 'Today I bought the DVD of my very own TV series #Warren. Sadly, the BBC never bought the second series of my very own TV series #Warren but thems the breaks.
'Thanks to everyone who watched, supported, and encouraged. Hopefully this isn't the end, but just the beginning.'
Cosgrove – whose bio on the social media site reads – 'writer of BBC1s Warren. I tried my best' – created the show with Paul McKenna, the writer behind Comedy Central's Brotherhood rather than the hypnotist.
A spokesperson for the BBC confirmed to Chortle: 'While there are no plans for a further series of Warren, we'd like to thank the creators and writers Jimmy Donny Cosgrove and Paul Mckenna, plus the entire cast and everyone at [makers] Hat Trick and for all their hard work and dedication to the show.'
Warren began with a respectable 3.8million viewers and finished with just under 2million. But it was savaged by critics.
The Guardian described it as 'a "comedy" that could have been written in 1974 … No jokes, no clever lines, no acknowledgements that there's nothing inherently laugh-out-loud in just saying "garden centre" or "driving instructor", or indeed that time and tastes move on and all that's left is a talented actor staring at the camera with what's meant to be sardonic pith but might actually be howling existential angst.'
The i also appreciated Clunes's performance but said Warren 'felt cold – and not just because every second word from its leading man's mouth was a brusque insult along the lines of "tit", "bollocks" or "tight bastard"'.
However, the Daily Mail enjoyed the series – which also starred Lisa Millett, Tim Preston and Oscar Morgan – saying: 'There's no political message, no right-on characters, no urban edge. There are, however, plenty of straightforward laughs.'
You can read Chortle's review here.
Clunes' previous sitcom role was stepping into Leonard Rossiter's shoes for the ill-fated Reggie Perrin remake
- by Jay Richardson
Published: 20 May 2019
What do you think?