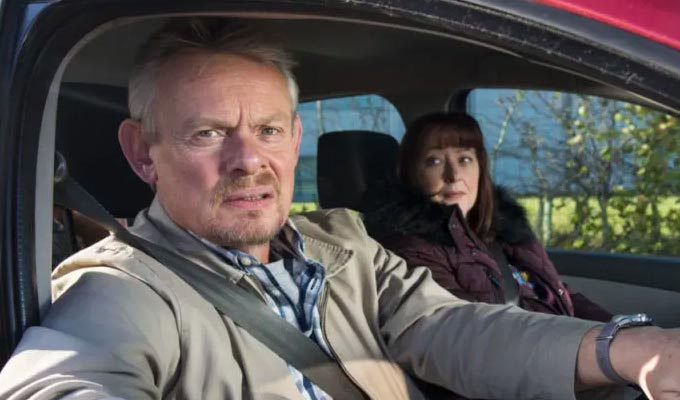 Warren
Curmudgeons have forever been a cornerstone of comedy, but the problem with Martin Clunes's Warren – well, one of many problems – is that he's not just grumpy, he's just an unpleasant shit.
Normally comic grumpiness comes from frustrated ambitions, whether it's the world grinding down Victor Meldrew's hopes of a quiet retirement or Basil Fawlty's inability to run the sort of classy establishment he wants. Even Larry David is driven by pride and a personal moral code, even if it's at odds with everyone else's.
But Warren is just an awful person with no noticeable redeeming features. He fly-tips because he can't be arsed to do it properly, he tells his neighbours their new garden equipment causes cancer because he can't stand them having anything nice; and he's sticking to dial-up internet because he's cheap. Whether you can even still get dial-up any more, incidentally, is no concern of the writers.
Clunes can normally be relied on to provide some humanity behind unlikeable characters, but he's got nothing to go on here; he's just a walking scowl who calls everyone a twat with no wit or elan. And yet he's the most fleshed-out character in the show.
His partner (Lisa Millet) is just the outdated archetype of 'long-suffering', whom we meet baking cakes and doesn't get to show much more of her own agency than that. Later she gets to be a straightwoman in a scene with a dreadful psychic, where the comedy comes – you'll never guess this – from him struggling to come up with a name of a deceased that resonates with his gullible clients. Such a cliché, despite a valiant effort to give the character some zing from Paul Chahidi, who you might recognise as the vicar in This Country.
The plot has more holes that Gouda and the writing, by relative newcomers Jimmy Donny Cosgrove and Paul McKenna, is limp and full of phoney dialogue. For some reason, for instance, everybody calls Warren by his name all the time, as if to ram home who we are watching. The fact this odd tic is noticeable is testament to how little else is going on, but once you spot it, it's distracting. The incidental music imposes, too, so desperately screaming 'comedy' because the script doesn't.
Britain is making some brilliant narrative comedy so it's disheartening that ITV has bailed on the genre and that for the flagship slot on primetime BBC One, right next to Alan Partridge, this tired, unfunny offering is all the national broadcaster can do.
Review date: 26 Feb 2019
Reviewed by: Steve Bennett
Recent Reviews
What do you think?