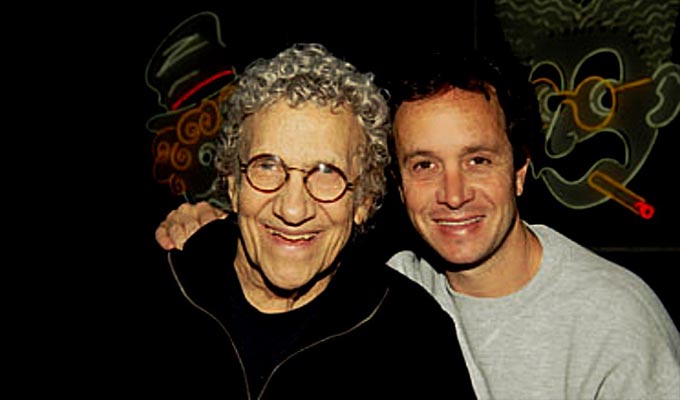 US Comedy Store founder Sammy Shore dies at 92
The co-founder of America's Comedy Store, Sammy Shore, has died at age 92
.
The father of actor Pauly Shore and a comedian in his own right, Sammy passed away from natural causes at his Las Vegas home, the club has announced on social media.

He was his wife of 29 years, Suzanne, and other members of his family,were with him when he died.

Pauly wrote on Instagram: 'I'm saddened to let everyone know my father Sammy Shore recently passed at the age of 92 from natural causes

'My parents divorced when I was three years old and even though my mom was the one that raised me, my dad still provided for me the best he could. He came to little league games, holidays, and birthdays. My dad sacrificed a lot of his career for his family even though all he wanted to do was be on the road and tell jokes and be free.'

'When I first decided to do stand-up comedy it was my dad that took me to my first gig. It was at a restaurant called The Alley Cat Bistro in Marina Del Rey on Sept 25, 1985.'

'Once I hit it big in the 1990s I took my dad on tour with me all over America doing shows. We toured together for more than 20 years. It was labeled "A Family Affair Tour." Most of the audience would be like, "Pauly Shore's dad's opening for him?" They thought it was some sort of a joke, when they soon realized the joke was on them.'

'My dad killed the crowds night after night. He didn't just set up the show by doing an amazing job on stage. He also simultaneously let the audience really know who I was, where I came from, and how I wound up the way that I did. Like father like son. Acorn did NOT fall far from the tree.'

Sammy's ex-wife Mitzi Shore died in April 2017 at the age of 87. They founded the Los Angelese venue together in, but she became owner two years later following their divorce.

Comedians who learned their craft on the Comedy Storestage include Robin Williams, Jerry Seinfeld, Garry Shandling, Jay Leno, David Letterman, Chevy Chase, Sam Kinison and Jim Carrey.
Published: 18 May 2019
What do you think?