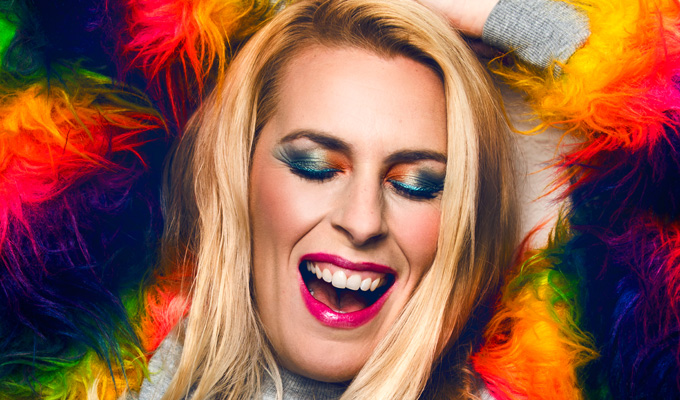 Comedians will lecture you
Sara Pascoe is to host a show in which comedians deliver stand-up in the guise of a lecture, Chortle can reveal.
Those appearing on Comedians Giving Lectures include Nish Kumar, Russell Kane, Rachel Parris, Dane Baptiste and Ed Gamble.
In each of the eight 30-minute episodes commissioned by the Dave channel following a successful pilot last year, Pascoe will give three comedians the titles of genuine lectures, but none of the content.
Not only will they have to impress the audience with their comedy and PowerPoint slides, they will also be marked on their oratory skills by experts in the field of their lecture topic.
Inspiration will be drawn from some of history's most famous lectures, including The Moral Side of Murder and The Good News about PMS.
UKTV commissioning editor Joe McVey said: 'I once had to give an hour-long lecture on triangles, and it was really dull. Why didn't I just get a comedian to write it for me? It all seems so obvious now. #piechartsrule.'
Dave channel director Luke Hales added: 'We're all huge fans of Sara so it's a real treat to have her at the forefront of this UKTV Original for Dave. We can't wait to see what hilarious theories the comedians come up with.'
Dave has previously spoofed TED Talks with the 2016 YouTube stand-up series Dave TALKS, featuring James Acaster, Nick Helm, Elis James, Katy Wix, John Kearns, Adam Riches, Emma Sidi and Phil Wang.
Pascoe has also presented her own 'lectures' in the form of the Radio 4 series Modern Monkey, inspired by her book Animal, which explored the modern world through theories of evolutionary psychology.
Her second book, Sex Power Money, a 'comedic and educational hopscotch over anatomy, the history of sexual representation and the sticky way all human interactions are underwritten by wealth', is published on August 29.
Production credits
Made by:12 Yard Productions
Ordered by: UKTV commissioning editor Joe McVey, Dave's head of comedy entertainment Iain Coyle and Dave channel director Luke Hales
Executive producers: Matt Walton and Paul McGettigan.
- by Jay Richardson
Published: 8 May 2019
What do you think?