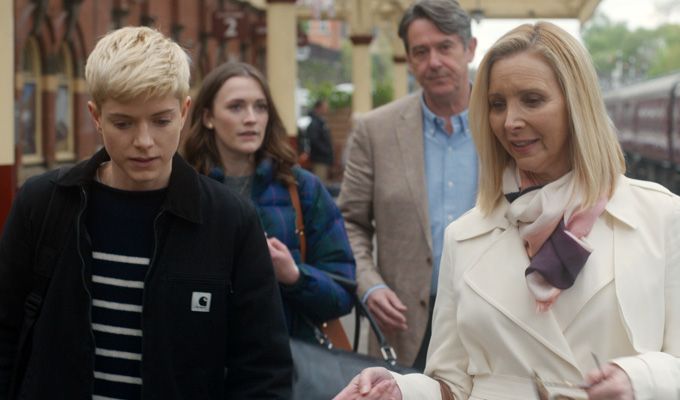 Lisa Kudrow joins Mae Martin comedy
Friends star Lisa Kudrow has joined the cast of Mae Martin's forthcoming E4 comedy series.
She leads an impressive ensemble that also includes Charlotte Ritchie from Ghosts, Sophie Thompson from Detectorists and Dr Brown comedian Phil Burgers.
Shooting has just begun in Manchester on the series of six half-hour episodes, which has the working title Mae and George.
Also being made for Netflix, the comedy is based on the British-based Canadian stand-up's past story of love and addiction. Martin plays the lead character and penned the script with former Skins writer Joe Hampson.
Martin has previously told in her stand-up about becoming addicted to drugs as a teenager on the Canadian comedy circuit, about her ultra-liberal upbringing and about her bisexuality.
Kudrow – who will be playing Mae's 'powerful and charismatic mother Linda' – said: 'I'm thrilled to be playing Linda but I first fell in love with Mae and the scripts she and Joe wrote. It's sweet and very funny and awkward and well observed.'
Ritchie, whose credits also include Fresh Meat and Call the Midwife, stars as Mae's new girlfriend George, described as 'both the balm to Mae's anxiety and the cause of it'.
She said: 'It is a total dream to be involved in a show like this. It is so thoughtfully written and full of beautiful details but also makes me laugh so much. I feel so very grateful to be part of it.'
Sophie Thompson, who played Shiela in Detectorists, takes the role of Maggie, Mae's fellow recovering addict and confidante. She said: 'I wanted this job so much after reading the scripts. To me, they were so funny, scorchingly honest and profoundly human. When I got the job - I literally did a jig of deep glee. Mae amazes me, and so does Joe - to be a part of something so original is such a genuine joy.'
Adrian Lukis plays Mae's romantic English father, while Burgers is Mae and George's enigmatic flatmate Phil.
Also starring in the series are a number of familiar comedy faces including Ophelia Lovibond, Tom Durant-Pritchard and Al Roberts as George's friends Binky, Hugh and Jared; Pippa Haywood as George's mum Felicity, and Ritu Arya Maggie's estranged daughter Lava.
Tobi Bamtefa, Steen Raskopoulos and Jack Barry play Mae's stand-up cohorts, while fellow members of her Addicts Anonymous support group are Ramon Tikaram, Sindhu Vee, Rosalind March and Tom Andrews.
Since Friends, Kudrow created and starred in the HBO series The Comeback and Showtime comedy Web Therapy – which Stephen Mangan adapted as Hang-Ups for Channel 4 – as well as appearing in TV shows an d movies including The Girl on the Train, Neighbors and Unbreakable Kimmy Schmidt.
She is also working on a new project from Empire creator Lee Daniels in which she will appear alongside Whitney Cummings. The comedy, for Amazon, is based around the #MeToo movement.
Production credits
Made by: Objective Fiction and Objective Media Group Scotland
Written by: Mae Martin and Joe Hampson
Directed by: Ally Pankiw
Executive producers: Ben Farrell, Hannah Mackay and Toby Stevens
Producer: Kelly McGolpin producing
Commissioned for E4 by: Fiona McDermot and Rachel Springett
Overseen by: Laura Riseam for Channel 4 and Cole Galvin and Larry Tanz for Netflix
Published: 30 Apr 2019
What do you think?