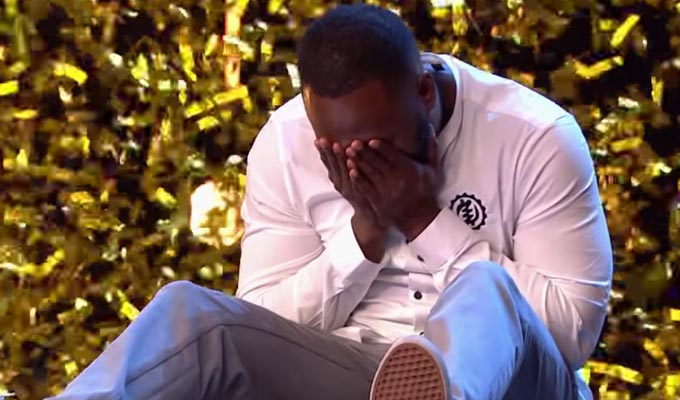 Comic Kojo makes Britain's Got Talent semi-finals
Comedian Kojo Anim has made it through to the Britain's Got Talent semi-finals – after 20 years on the circuit.
The 42-year-old got through when head judge Simon Cowell used his golden buzzer to send him through to the next stage on last night's show.
Before his routine, Kojo told the audience: 'I've been doing comedy for 20 years. I've spent most of those 20 years encouraging new comedians and helping big-name comedians, opening up for them.
But he said he decided to enter the ITV competition after his fiancee said 'it's about time I started thinking about myself and my son.'
Kojo received a standing ovation for his routine about his parent's tough approach to child-rearing, poor service in banks and taking cabs when you're broke.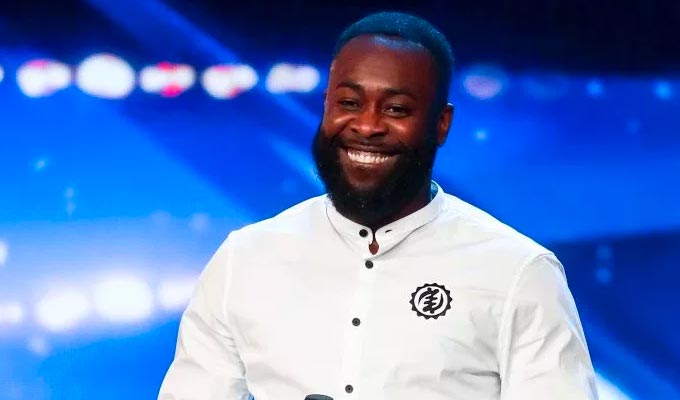 And afterwards the judges were full of praise.
Amanda Holden said: 'I love hearing how you've grafted. The act got better and better and by the end I thought, "I would pay money to see this man." Congratulations
Alesha Dixon, who said she had known Kojo for many years, said: 'I've always respected you . My respect level for you has just gone way up there my friend. Let's see how far you can take it now.'
David Williams said: 'When someone is really funny, there is nothing much to say other than you are brilliantly funny. You made everyone laugh,. You have all bases covered as a comedian, you're brilliantly likeable, you have fantastic observational routines, you did yourself really proud today.'
And Cowell said: 'I don't really like comedians on this show, but I love you' – before pressing the buzzer that released the golden confetti.
The clearly emotional comic fell to the ground after hearing the news.
Kojo has previously opened for act such as Kevin Hart and Chris Rock, and runs a London club, Kojo's Comedy Fun House, where Dave Chappelle has roadtested material.
The club also had its own spin-off MTV, while in 2005, Kojo also co-presented CBBC show The Mighty Truck Of Stuff alongside Reggie Yates.
He also appeared in Noel Clarke's 2012 film The Knot and hosted the daily breakfast show on Capital Xtra from 2010 to 2014,
Last year, Kevin Hart posted a video praising Kojo, Richard Blackwood and Slim, sating: 'When I first started coming to the UK, these three guys dedicated time and energy to showing me all around basically embracing me.'
Here's Kojo's performance on last night's show.
Published: 14 Apr 2019
What do you think?