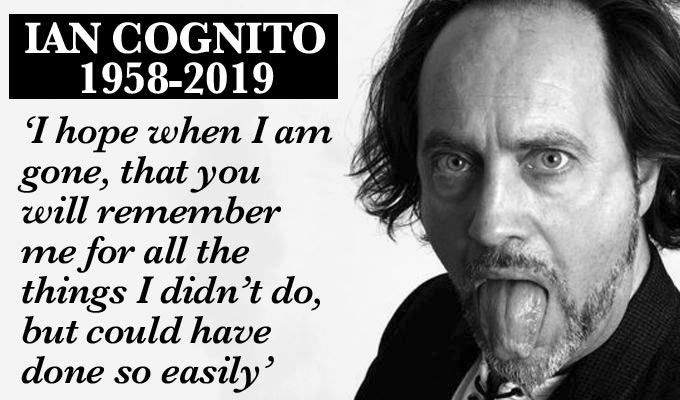 Comic Ian Cognito dies on stage
Tributes have flooded in to comedian Ian Cognito after he died while performing on staget.
He was taken ill onThursday night while gigging at the Lone Wolf Comedy Club at the Atic in Bicester, Oxfordshire.
The comic is said to have 'sat on a chair and laid back for five minutes' with the audience thinking it was part of the routine,.
Compere Andrew Bird said Cognito had even joked about his health during his set, telling the audience: 'Imagine if I died in front of you lot here."
After Cognito – universally known on the circuit as 'Cogs' – had been slumped in his chari for a few minutes, Bird went to check if he comedian was OK.'
'Everyone in the crowd, me included, thought he was joking,' Bird told the BBC .' 'Even when I walked on stage and touched his arm I was expecting him to say "boo".'
Paramedics were called but South Central Ambulance Service say 60-year-old comic Cognito was pronounced dead at the scene.
Cognito – who lived on a houseboat in Bristol – was known for his outrageous and unpredictable stage act, and would often boast of the number of clubs he was banned from.
He declared himself the 'undecorated hero of the British comedy frontline' having never appeared on television in a 30-year career. Cognito – whose real name was Paul Barbieri – was probably best known for his provocative opening gambit: taking the stage with a hammer, banging a nail into the wall and hanging his coat on it.
Fellow comedians - incluidng big names such as Jimmy Carr, Mark Steel, Arthur Smith and Matt Lucas – paid tribute this morning.
Bristol-based Mark Olver said: 'A sad day for comics today. The great Ian Cognito passed away last night. All of us Bristol and West Country comics were very lucky to have him living in this part of the world. One the most charismatic performers and men (most of the time) I ever met.'
Susan Murray called him 'one of the few true mavericks of stand-up in the UK who was utterly majestic on stage.'
Rufus Hound said: 'Ian Cognito has died. That might not mean much to you if your knowledge of stand-up only extends to a screen but for anyone who ever sat down in a comedy club and saw him on a stage - this is a hard one Puck grew up and now Puck is dead. We have lost one of the greats. Shit.'
And Luisa Omielan added: 'Just heard about Ian Cognito, I saw him one once in stage years ago and was in awe, he was as epic as his reputation. Rebellious and brilliant. I heard he passed away after being on stage. He even died like a fucking legend. Far far too soon. Love to his family.'
Cognito's son Will Barbeiri acknowledged those paying tribute, posting on Twitter: 'Thank you everyone, my life won't be the same without my best friend and dad. Enjoy that warehouse in the sky, Love and laughter always.'
And he shared a quote from his dad: 'I hope when I am gone, that you will remember me for all the things I didn't do, but could have done so easily.'
Here is Cognito in action at Glastonbury in around 1999:
• Click here to read an extract from his autobiography, A Comedian's Tale, first published in 2003.
Published: 12 Apr 2019
What do you think?