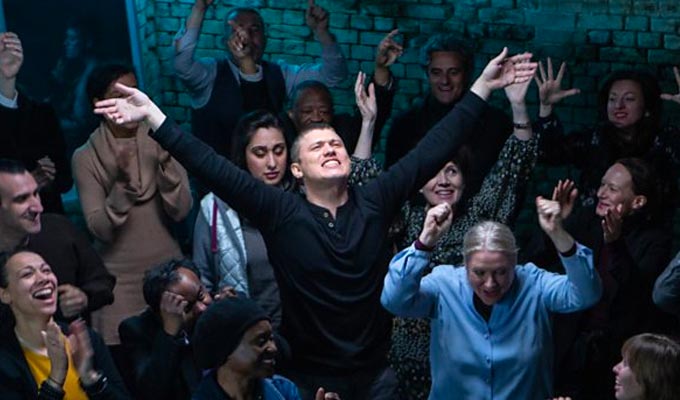 BBC launches Threesomes to nurture new comedy talent
The BBC has launched a new series of comedy shorts, designed as a seeding ground for new comedy talent.
Threesomes will comprise three, three-minute episodes , with the Corporation's comedy controller Shane Allen vowing to order seven such series for BBC Three every year.
The first three have been announced today: one about a life guru, one that uses CGI to give a voice to cats, and one about a couple of amateur rappers.
Allen said: 'Scripted comedy on BBC Three has enjoyed a purple patch with Fleabag, This Country, The Young Offenders, Man Like Mobeen and People Just Do Nothing among others delivering big audiences and many plaudits. The Threesomes strand is about ensuring a vital opportunity to bring through the talents of the future to continue in this rich comedy story for BBC Three.'
And BBC Three controller Fiona Campbell added: 'It's important that BBC Three continues to be the place on the BBC that nurtures the next generation of comedy writers and performers.'
The new Threesomes are
Hunter
A comedy about self-proclaimed 'life-guru' Cayden Hunter, played by Jon Pointing (Pls Like, Plebs), his insatiable need for attention, and the often-unhealthy balance between a leader and his disciples.
Cayden preaches a gospel of mastering one's own destiny, luring already broken people desperate for answers. He's big on promises but vague about the details. As he works his magic, we see that behind the charisma and conviction maybe he doesn't have all the answers.
Hunter is produced by Baby Cow Productions for BBC Three. It is written by Jon Pointing and Sophie Goodhart, directed by Joe Fraser, produced by Molly Seymour, and executive produced by Steve Coogan for Baby Cow Productions. Kate Daughton is the commissioning editor for the BBC.
Oi Pussy!
Oi, Pussy! combines live action and CGI elements to create a world where opinionated, street-savvy cats can talk and pass judgement on their human owners without a filter.
Pussy wanders around the UK's most notorious estate. unnoticed, gaining a unique perspective on all the dodgy dealings and anti-social antics going on in his manor. When innocent bystanders get caught in the fray, like Robin Hood, Pussy's determined to make things right - one petty, karmic move at a time.
Oi, Pussy! is produced by Big Deal Films for BBC Three. It is written by Atlanta Green and directed by Mustapha Kseibati. The executive producer is Thomas Stogdon for Big Deal Films and the commissioning editor is Sarah Asante for the BBC.
Fully Blown
Two best mates Vanessa (Donna Preston) and Demi (Verona Rose) rise above their boring, sometimes painful lives by creating superstar rap personas - Starz and Gap C.
Fully Blown is produced by Studio71UK for BBC Three. It is written by Donna Preston, Verona Rose and Sarah Morgan, and is directed by Ella Jones. It is executive produced by Jody Smith and Tom Payne. Sarah Asante is the commissioning editor for the BBC.
Published: 11 Apr 2019
What do you think?