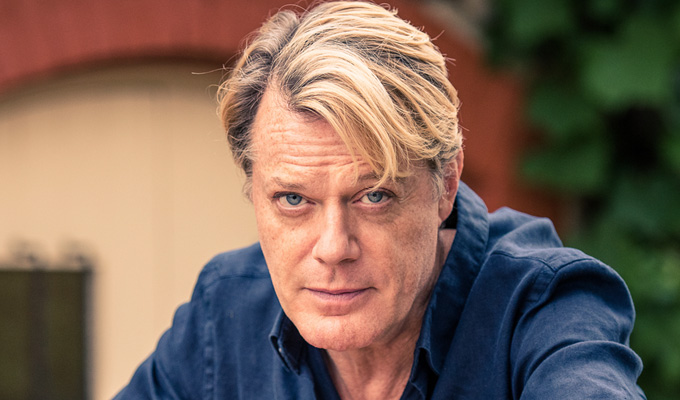 Eddie Izzard to play the Edinburgh Fringe
Eddie Izzard is to perform Great Expectations at this year's Edinburgh Fringe.
The comic will be doing a work-in-progress reading of the Charles Dickens' classic as part of the programme at Assembly.
Last year he recorded an audiobook version after discovering he had the same birthday as the novelist. 'I'm exactly 150 years younger than Dickens to the day,' he said. '7th February 1812, 7th February 1962. Doesn't mean anything, but it means slightly more than being 147 years and 12 days.'
News of Izzard's appearance come as a new raft of Edinburgh Fringe shows goes on sale today.
Also among them are news tour shows from Rhod Gilbert and Ruby Wax and Saturday Live and Strictly Come Dancing's Revd Richard Coles – all at the Pleasance.
Here are some of the highlights:
Assembly
John Luke-Roberts returns with two new shows: Terrible Wonderful Adaptations and the absurdly titled After Me Comes the Flood (But in French) drip splosh splash drip BLUBBP BLUBBP BLUBBPBLUBBPBLUBBP!!
The venue is also playing host to Milton Jones Sarah Kendall, Josh Berry, Rob Auton, Police Cops, Australian twins - The Stevenson Experience and Ellie Gibson and Helen Thorne with a live version of their Scummy Mummies podcast.
William Burdett-Coutts, artistic director of Assembly Festival said: 'August is shaping up to be another fantastic year for Assembly Festival with the very best theatre and comedy at the heart of our programme.'
Pleasance
Newcomers include Tom Taylor, Yuriko Kotani and former Chortle student finalists Jack Gleadow and Michael Odewale
Newly crowned Chortle best newcomer Sarah Keyworth is returning, as are Catherine Bohart, Heidi Regan, Micky Overman, Alasdair Beckett-King, Chris Washington, Ed Night, Tom Houghton and Jordan Brookes
From South Africa, Loyiso Gola will be returning alongside Fringe debutant Schalk Bezuidenhout.
And festival favourites The Showstoppers, Mervyn Stutter's Pick of the Fringe and Chortle's Fast Fringe are also heading back
Gilded Balloon
Daliso Chaponda returns to the Fringe after his third-placed performance in Britain's Got Talent 2017.
Tommy Tiernan performs his latest tour show Paddy Crazy Horse, while Jan Ravens shows off her impersonations at the Museum of Scotland.
Konstantin Kisin, who made headlines for refusing to sign a university's 'safe space' agreement has a new show entitled Orwell That Ends Well
There are also shows from Maisie Adam, Juliette Burton, JJ Whitehead, Isma Almas, Patrick Monagan, Alison Spittle, The Kagools, New Zealand comic David Correos and the Scottish Falsetto Sock Puppet Theatre,
Underbelly
Andrew Maxwell returns with a new show, All Talk, along with Italy's Francesco De Carlo, Northern Ireland's Micky Bartlett, England's Lucy Frederick and local comic Gareth Waugh
Monkey Barrel
Tom Ballard, the host of ABC's Tonightly with Tom Ballard in Australia returns to the Fringe with a show called Enough.
Just The Tonic At The Caves
Josh Pugh, Luca Cupani and Andrew White all have shows on sale now
• Click here for all the listings so far.
Published: 21 Mar 2019
What do you think?