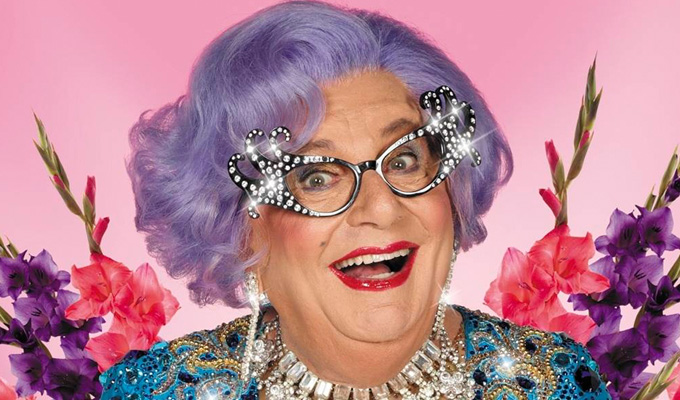 Dame Edna's making a comeback
Dame Edna Everage is to make a stage comeback – six years after her supposed farewell tour.
Barry Humphries revealed that his most famous alter-ego has dates booked in for Australia and US later this year.
And the 85-year-old also broke his silence about claims he was transphobic.
'Nothing has been more grotesquely interpreted,' he said in the new interview with the Sunday Times.
'Edna carefully said she thought that men who had themselves castrated did not become women, and that got taken the wrong way.'
However the original claims of bigotry stem from a 2016 interview Humphries gave to the Daily Telegraph as himself.
Speaking about trans women, he said: 'You're a mutilated man, that's all. Self-mutilation, what's all this carry-on?
'Caitlyn Jenner - what a publicity-seeking ratbag. It's all given the stamp - not of respectability, but authenticity or something. If you criticise anything you're racist or sexist or homophobic.'
And last year he exacerbated the situation in an interview with The Spectator by labelling transgenderism 'a fashion' and asking: 'How many different kinds of lavatory can you have?'
At the time, Hannah Gadsby said: 'Barry Humphries loves those who hold power, hates vulnerable minorities and has completely lost the ability to read the room. That's not a comedian, thats' an irrelevant, inhumane dick biscuit of the highest order.'
However, Humphries is not letting the controversy stop him performing, telling today's Sunday Times. 'I am giving you a scoop. Edna's coming back.
'She's in great shape. She's been measured for new frocks and three songs have been written.'
Indeed, he defends his right to cause offence, saying political correctness is 'the new puritanism'.
When Humphries originally announced Dame Edna's retirement in 2012, he was 78 and said he was 'beginning to feel a bit senior' for the gruelling performances, and said he wanted to avoid people thinking of him: 'You should have seen him when he was funny'
Humphries created Dame Edna back in 1955 when he was touring country towns in Australia, and she made her first appearance in a Melbourne University revue that year.
Originally, the character was billed as Mrs Norm Everage and lived up to the normalcy of her name: the flamboyant wardrobe and manner would come later.
She was made a dame when appearing in the 1974 film Barry McKenzie Holds His Own, when Australian Prime Minister Gough Whitlam made a cameo to confer the honour.
Her success grew in the UK throughout the Eighties and Nineties with a series of TV shows, including the talks show The Dame Edna Experience, and has regularly toured Britain, America (where she made a memorable cameo on Ally McBeal) and Australia.
Humphries was speaking today to promote his on-stage interview with Rob Brydon at the London Palladium on April 28.
Published: 17 Mar 2019
What do you think?