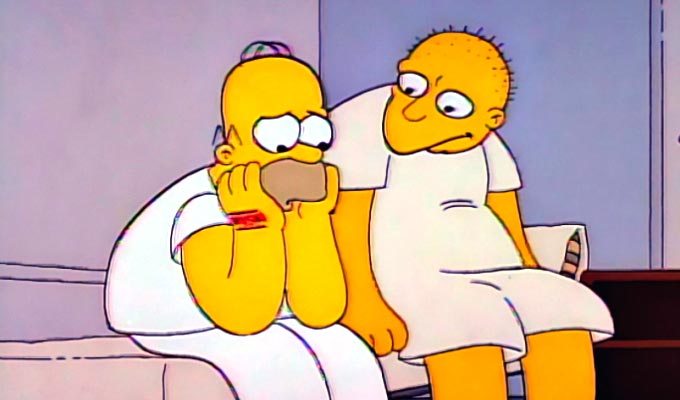 The Simpsons pulls Michael Jackson episode
The Simpsons episode featuring Michael Jackson has been dropped from syndication following fresh allegations about the star abusing children.
Jackson provided a voice in the 1991 episode Stark Raving Dad, playing a mental patient Homer meets in an asylum.
However, after the documentary Raising Neverland aired on HBO in the US and Channel 4 in the UK, executive producer James L Brooks says the episode will no longer be repeated.
'It feels clearly the only choice to make, he told the Wall Street Journal.
'This was a treasured episode. There are a lot of great memories we have wrapped up in that one, and this certainly doesn't allow them to remain
'I'm against book burning of any kind. But this is our book, and we're allowed to take out a chapter.'
However he added that it may take some time for the episode to be pulled from syndication
In the four-hour Finding Neverland, Wade Robson and James Safechuck tell how Jackson abused them as children in his Neverland ranch, although the star's estate has denied the claims.
Jackson appeared uncredited in the episode, under the name John Jay Smith.
The plot revolved around his character Leon Kompowsky being institutionalised for insisting he was Michael Jackson. The singer pitched several story ideas and wrote the song Happy Birthday Lisa, but stipulated that his singing voice would be performed by a soundalike (Kipp Lennon).
Separately, Jackson also co-wrote and co-produced the 1990 Simpsons song Do The Bartman – again uncredited as he was under contract to another record label.
Published: 8 Mar 2019
What do you think?