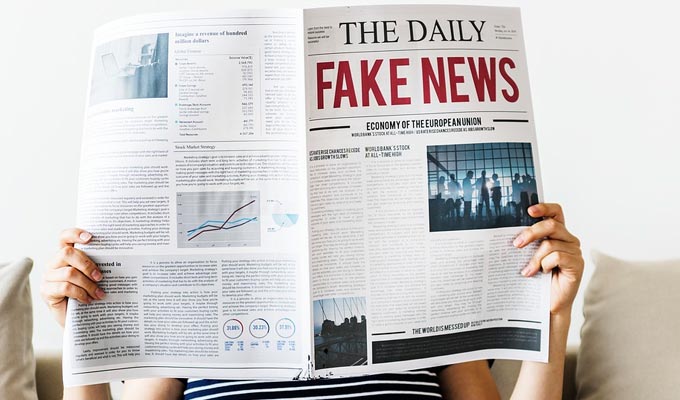 Fake news?
Doubts have been cast on the identity of a writer who claimed that the UK comedy circuit was a hotbed of 'actual hate speech'.
Liam Evans wrote an article for the Independent website, headlined: 'As a new comedian working the circuit, I'm appalled at disgusting "jokes" creeping back into the industry.'
Yet there appears to be no record of any Liam Evans working on the circuit, with no social media presence nor any reference in Chortle's listings.
Now leading comedians including Stewart Lee and Kevin Eldon have written to executive editor Will Gore demanding to know if Evans is a real comedian, or whether the article was just fake news.
In the piece, Evans accused Fin Taylor of 'thinly veiled rape apologism' and said: 'Some of the jokes I have heard on the comedy circuit of late constitute actual hate speech.'
He added: 'Speaking as a person of colour in an irredeemably racist culture, I'm sick of being accused of hypersensitivity by straight white men who are blind to their own privilege.
'I believe in freedom of speech, but I am also adult enough to recognise that this freedom does not extend to making public events unsafe for vulnerable members of society…. It takes an astonishing degree of entitlement to claim the right to free speech without accepting the consequences of one's choices.'
In his letter to Gore, Lee asked: 'Are you sure your comedy correspondent "Liam Evans" is a real person?
'I think you have been hoaxed by the alt-right trying to give the impression that all liberal comedians are humourless self-righteous killjoys
'There is no evidence of him ever having done a gig anywhere
'We need to be extra vigilant in this era of fake news, as Liam's piece was received on Twitter in such a way as to stoke the usual high profile alt-right commentators' sense of grievance
'I would be interested in what background checks you did on his identity and who he is really.'
Chortle asked Gore the same question, or to be put in contact with Evans, but has yet to receive a reply.
Several people on Twitter also cast doubt on Evans's veracity.
Will Tommo said: 'Can't find any social media for young comedian "Liam Evans". Anybody who refers to themselves as a "comedy aficionado" truly doesn't know the first thing about performing - he seems too much like a parody to be real. Has Indy been duped this way before'
And Colton Boreen said: 'I refuse to believe Liam Evans isn't a pseudonym'.
• Are you Liam Evans or do you know him? Email feedback@chortle.co.uk
Published: 1 Mar 2019
Recent News
What do you think?