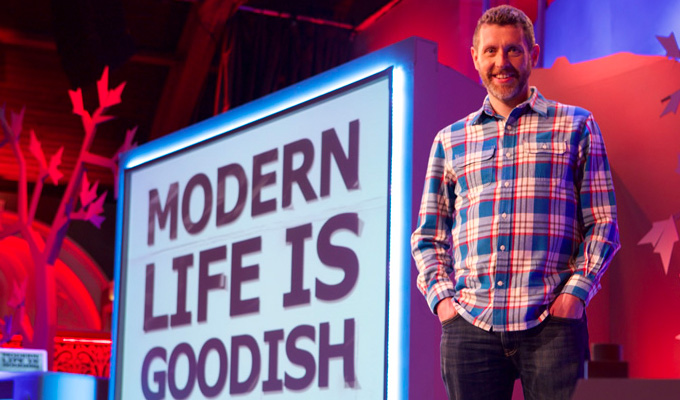 Telly watchdogs clear Dave Gorman's kneecap prank
Broadcast watchdogs have rejected a complaint that Dave Gorman was unfair to a website for would-be actors when he used it to place a fake advert as part of a practical joke
StarNow called in lawyers to lodge a complaint with Ofcom over a section on his Dave show Modern Life Is Goodish which they claimed was 'very damaging' to their reputation.
The lawyers did not accept that the programme was 'gentle and humorous in tone' nor that Gorman was offering a 'humorous discussion of fame'.
StarNow's complaint stemmed from the penultimate show in the series, originally broadcast in December 2017.
On the programme, Gorman told viewers how he signed up to the website using the account of production company Liberty Bell, and placed a bogus job advert seeking pictures of kneecaps for a fictional TV show, The Kneecap Recap.
The comic explained that the format would be 'that for half an hour, still photographs of unidentified kneecaps float across the screen whilst some easy listening muzak plays in the background to accompany them. That is it. No names, no money changes hands, nothing else happens for half an hour.'
He made clear he did not want to 'punch down' at those hoping for some fame or money by signing up to the site, so offered neither of those things in his bogus advert. Instead his aim was to wind up his colleagues at Liberty Bell.
So he gave the email address of an unwitting worker in the production office, expecting him to be bamboozled by the responses he received… but got no reaction.
However the story then took a bizarre turn when someone emailed in a photograph of the knees of Gorman's wife, Beth, which the comic himself had put online and accidentally left public.
Earlier in the show, Gorman had mocked the section of StarNow that put out calls for people to sell their stories to magazine reporters, suggesting that the offer of financial reward could encourage people to make things up. He told how he set up a fake profile to try to respond to some of these adverts, but to no avail.
Lawyers Taylor Wessing complained that StarNow felt 'denigrated' by the programme 'and the disparaging way that its industry and members were ridiculed'.
They claimed that although Gorman did not explicitly criticise StarNow, their client was treated unfairly because the programme 'gave viewers the false impression that StarNow did not protect its members or verify that casting calls posted on its website were legitimate opportunities'.
The complaint spun on the fact that Gorman was only allowed to post the advert for The Kneecap Recap because he used the verified account of Liberty Bell, which as a trusted production company did not go through the same vetting as others.
UKTV said Gorman's explanation of how he used the company's account to post the ad covered this, adding that it was unreasonable to expect a comedy programme to include the website's vetting processes when 'they are not in any way relevant to the story being told'.
On the programme, Gorman explicitly said: 'I've gone from being a punter, someone who can only reply to other people's adverts, and I've become a media company, who can put adverts of their own on the site.'
In its ruling, published today, Ofcom ruled that the comic's references to StarNow were unlikely to have adversely affected viewers' opinions of the company in a way that was unfair.
The decision has been so long coming because Taylor Wessing challenged an unpublished preliminary ruling that came to the same conclusion.
The episode in question is available to view on UKTV Play.
Published: 11 Feb 2019
What do you think?