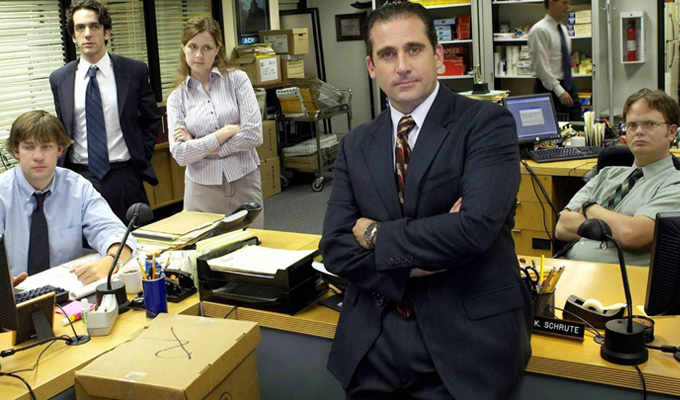 Now a REAL documentary about The Office
TV producers are making a documentary about the mockumentary The Office.
The new show will be about the US version of the sitcom starring Steve Carell, although it is also likely to cover Ricky Gervais and Stephen Merchant's UK original, too.
Filming on the programme – entitled That's What She Said (And They Said Too!) – begins in April, although there in no word on where it might be broadcast or distributed. However it is expected to be out in time for the comedy's 15th anniversary in March 2020.
News of the project was leaked by Robert Ray Shafer, who played Bob Vance in 24 episodes of the NBC show.
Writing on Facebook he revealed that producers had approached him about appearing in the documentary.
He reproduced their email, which said: 'We will be delving into the history of the highest streamed show currently on Netflix, with anecdotes from cast, crew, creators, fandom culture, and how the show successfully addressed the larger social issues of the times.'
Although the streaming company does not reveal audience numbers, data company Jumpshot reported that that The Office was responsible for 7.2 per cent of all Netflix views on browsers in November, well ahead of the No2 show, Friends, on 4.1 per cent.
Shafter's character in The Office ran Vance Refrigeration in the same Scranton building as Dunder Mifflin and is married to sales rep Phyllis.
Meanwhile, comedy writer Keaton Patti has produced a spec script for The Office, which he says was written by artificial intelligence, which learned from watching 1,000 hours of the sitcom.
It starts with Michael saying: 'We sell paper.Paper is the hair of the tree. I just talked to the trees. They said they won't give us more hair. This is bad. We sell paper.'
Cut to Dwight – 'dressed like a sword' – who says: 'I have killed the trees before. Again I shall kill them. Solved.'
Then, the 'bot' suggests, 'we move in on Jim. Jim has a face'.
Read the full offering in Patti's tweet:
I forced a bot to watch over 1,000 hours of The Office episodes and then asked it to write a The Office episode of its own. Here is the first page. pic.twitter.com/RV84VTHYWH

— Keaton Patti (@KeatonPatti) January 22, 2019
Patti has previously created supposedly AI-written scripts for Fox News, Hallmark Christmas movies and Olive Garden commercials.
Published: 24 Jan 2019
Recent News
What do you think?