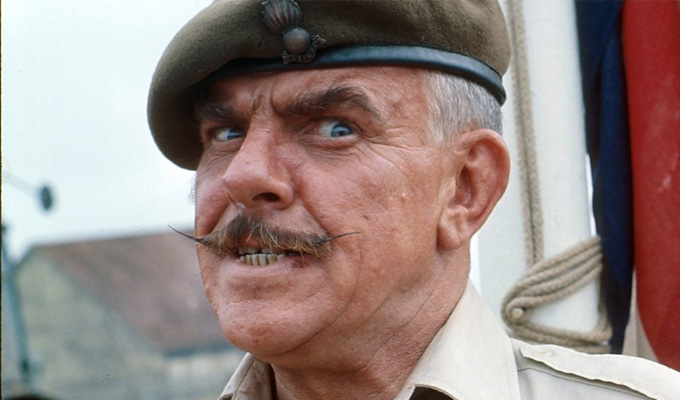 It Ain't Half Hot Mum star Windsor Davies dies at 88
Windsor Davies, best known as the sergeant major in 1970s sitcom It Ain't Half Hot Mum, has died at the age of 88.
His daughter Jane Davies said her parents left a large family 'who will all remember them with love, laughter and gratitude'. The actor had retired to France with his wife of 62 years, Eluned, who died in September.
Among those paying tribute today were Allo Allo star Vikki Michelle, who tweeted: 'So so sad to hear about Windsor Davies one of my favourite people. A genuinely lovely generous man. Such fond memories of working with him. Had a huge presence and a huge heart. Will be missed by all who knew him.'
It Ain't Half Hot Mum co-star Melvyn Hayes told the BBC: 'To work with him was a pleasure, a sheer delight... he was a lovely, lovely man.'
And Simon Pegg recalled a teenage trip to the theatre to see Davies as the narrator in The Rocky Horror Show, during which he delivered 'a bellowing "SHUDDDDUPPPPPPP YOU WANKER!!!" in reply to one persistent heckler'.
Davies was born in Canning Town, east London to Welsh parents, who returned to their native Nant-y-Moel when the Second World War began in 1939.
His most famous role was as Battery Sergeant Major Williams in the BBC Army sitcom which ran from 1974 to 1981. Among his catchphrases was 'Shut Up!!', delivered at an ear-piercing volume, and 'Oh dear, how sad, never mind' delivered sarcastically. Less politically correct, he would also often refer to his men as a 'bunch of poofs'.
Davies and his co-star Don Estelle also had a number one hit in the UK in 1975 with a version of Whispering Grass.
He also starred in the sitcom Never the Twain with Donald Sinden, which ran from 1981 to 1991.
His other comedy roles included playing an elderly night porter in the BBC sitcom My Family and appearing in Carry On Behind and Carry On England- in the latter as yet another sergeant major.
Published: 19 Jan 2019
What do you think?