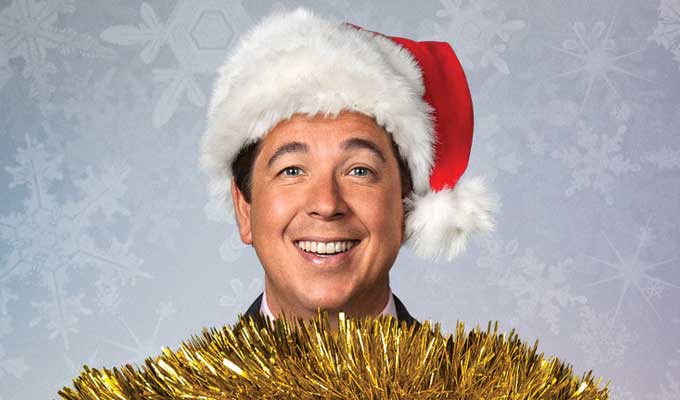 Michael McIntyre tops Christmas Day viewing
Michael McIntyre was the most-watched programme on Christmas Day behind the Queen's Christmas message.
His Big Christmas Show attracted 6.1 million viewers to BBC BBC One, beating festive specials from Strictly, Call The Midwife and Mrs Brown's Boys.
The Queen's broadcast was seen by 6.3million, combining its transmission on BBC One (5.2 million) and ITV.
Mrs Brown's Boys, the biggest hit of 2017, fell to just 8th place, it 4.7million viewers down 2.1million – or 30 per cent – on last year.
Figures were down across the board, however, with the Queen's message down 16 per cent from the 7.5 million who tuned in last year.
The BBC aired nine of the top 10 shows of the day, with ITV's highest rating programme going to Coronation Street.
Charlotte Moore, director of BBC content said: "We're happy so many people chose to watch BBC One this Christmas Day.
'Whether it be entertainment shows such as Michael McIntyre and Strictly Come Dancing, drama like Call The Midwife or comedy with Mrs Brown's Boys we want to offer something for everyone.'
The full Top 10 is:

1. Michael McIntyre's Big Christmas Show, BBC One, 6.1 million
2. Strictly Come Dancing Christmas Special, BBC One, 5.8 million
3. Call The Midwife Christmas Special, BBC One, 5.5 million
4. The Queen's Christmas Broadcast, BBC One, 5.2 million
5. The Jungle Book, BBC One, 5.2 million
6. EastEnders, BBC One, 5 million
7. BBC News, BBC One, 4.7 million
8. Mrs Brown's Boys Christmas Special, BBC One, 4.7 million
9. Coronation Street, ITV, 4.6 million (includes ITV+1)
10. Zog, BBC One, 4.5 million
Published: 26 Dec 2018
What do you think?