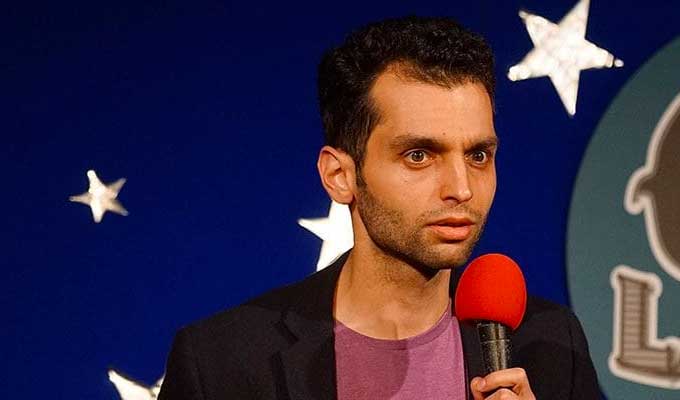 London college's rules on comedy show 'are like something out of Soviet Russia'
A comic has pulled out of a university gig after organisers issued a page of conditions designed to ensure the performance was a 'safe space'.
Konstantin Kisin – who wasn't being paid for the charity show – said the list of dos and don'ts he was asked to sign 'nearly made me puke'.
The contract, from a student group within the University of London, stipulated that comedy be 'presented in a way that is respectful and kind'.
Student leaders said they issued the guidance to ensure the event was a 'safe space [for] joy, love and acceptance', and told Russian-born, British-based Kisin: 'By signing this contract, you are agreeing to our no-tolerance policy with regards to racism, sexism, classism, ageism, homophobia, biphobia, transphobia, xenophobia, Islamophobia or anti-religion or anti-atheism.'
I just received an invitation to perform *comedy* at a university...

The title of this "contract" nearly made me puke. @UnleashedComedy pic.twitter.com/4tUPCFwTLG

— Konstantin Kisin (@KonstantinKisin) December 10, 2018
The 35-year-old may have been the wrong person to send the contract to, as he hosts a podcast about freedom of speech and political correctness.
He told The Times: 'The only people who should be controlling what comedians say are comedians. This is a threat to freedom of speech and I have declined the invitation on a point of principle.
'I grew up under the Soviet Union. When I saw this letter, basically telling me what I could and couldn't say, I thought this was the kind of letter a comic would have been sent there.'
The form was drawn up by the Unicef on Campus society at the the School of Oriental and African Studies (Soas) – but the college's student union said it did not require external speakers to sign any form of contract and that the society had been overzealous.
Kisin is by no means the only comedian to have fallen foul of student sensibilities.
Earlier this month, stand-up Nimesh Patel was yanked off stage during a performance at Columbia University in the US.
Students became offended when the joked that a gay black neighbour had convinced him homosexuality couldn't possibly be a choice, as 'no one looks in the mirror and thinks, "this black thing is too easy, let me just add another thing to it".'
The comic later write that: 'I believe the student leaders were wrong to cut my mic, but as a person, I cannot control how people think and how they react.
'When you silence someone you don't agree with or find offensive, not only do you implement the tactic used by the people you disdain; you also do yourself the disservice of missing out on a potentially meaningful conversation. You cannot affect change if you are not challenged.'
The Columbia Asian American Alliance which organised the event later apologised – not to Patel but to fellow students for inviting him.
They said his material ran 'counter to the inclusive spirit and integrity' of their event, saying: 'We acknowledge that discomfort and safety can coexist, however, the discomfort Patel caused was unproductive in this space.'
Earlier in the year Hannibal Buress suffered a similar fate when he used his set to read out a list of stipulations a Catholic college had made about his performance.
Published: 12 Dec 2018
What do you think?