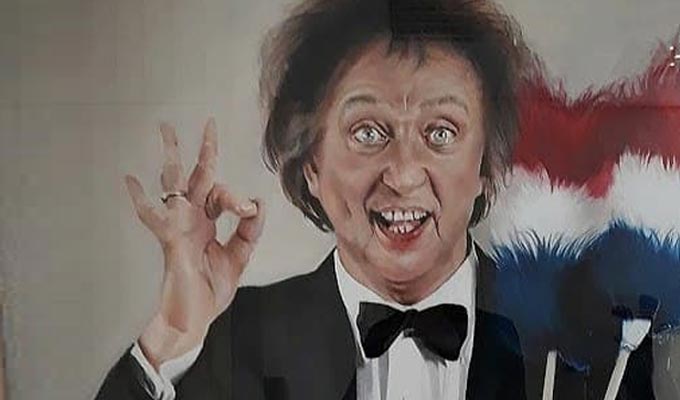 New portrait of Ken Dodd
A new portrait of Sir Ken Dodd is to be unveiled in Merseyside next week.
The piece, by local artist Robert Newbiggin, will be placed in the Floral Pavilion in New Brighton.
Sir Ken was a frequent visitor to the theatre, with his first show in 1940. He was the last performer there when it was demolished for a redevelopment in 2007, and the first when it reopened the following year.
His widow, Lady Anne Dodd will be unveiling a commemorative plaque and the portrait next Thursday.
She said: ' I am extremely touched, honoured and proud that Ken's memory is being marked with something so special as this commemorative plaque and unique portrait by Robert Newbiggin. It will provide a sincere and lasting tribute to Ken in a venue that was so special to him (and myself) during his lifetime as an entertainer.
'As everyone knows, Ken loved nothing better than being on the theatre stage and this is a wonderful addition to the many memories and tributes paid to him by the people of Merseyside.
'He was a true son of Merseyside and his native Liverpool and I am deeply honoured to be unveiling this tribute to his memory.'
Newbiggin – who also has a portrait of Eric Morecambe hanging in Morecambe town hall – told Chortle: 'I'm really looking forward to meeting Lady Anne.'
Next week's event marks the tenth anniversary of the official opening of the current Floral Pavilion.
Last month, Lady Anne unveiled a sculpture of her late husband in Liverpool Central Library's Picton Reading Room.
Published: 6 Dec 2018
What do you think?