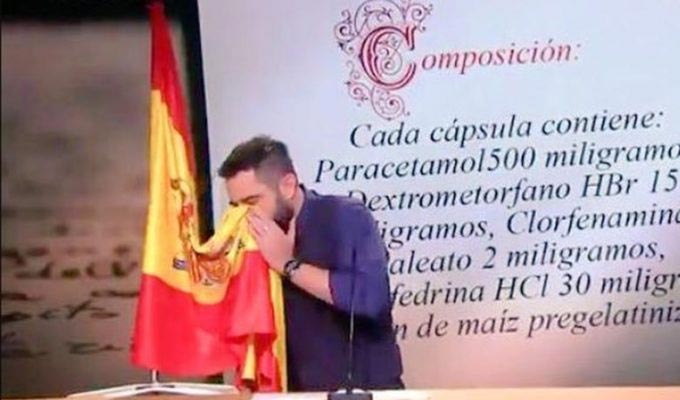 How this sketch could land a comedian in jail..
A Spanish comedian has been hauled in front of a judge for blowing his nose on the national flag on TV.
Dani Mateo could be prosecuted for 'offence of public affront to the symbols of Spain', which comes with a fine, or for carrying out a hate crime, which carries a maximum sentence of four years in jail.
The appeared in a Madrid court on Monday after a judge agreed to accept a complaint brought by a trade union representing police officers.
They protested over a sketch on satirical news show El Intermedio, broadcast on the La Sexta channel last month, in which Mateo joked that he was going to read the only text that 'genuinely creates consensus in Spain: the patient guidelines in a packet of Frenadol'.
But as he read the instructions on the cold remedy, he pretended to sneeze, and blew his nose on the Spanish flag.
'Christ, sorry!' he joked. 'I didn't want to offend anyone. I didn't want to offend Spaniards, nor the king, nor the Chinese who sell these rags. Not rags, I didn't mean rags.'
In the ensuing outrage, an advertising campaign for an opticians in which he was due to appear was pulled, and a theatre in Valencia cancelled his show.
According to Spanish newspaper El Pais, Mateo told reporters outside court that his case was a fundamental free speech issue. 'I'm worried because we are taking a clown to court for doing his job, and that worries me,' he said.
He posted on Instagram a picture from The Simpsons when Krusty The Clown appeared in court.
Mateo did not give a statement at his initial court appearance.
Here is the footage:
Sabíais que La Sexta borró el vídeo de Dani Mateo sonandose los mocos con la bandera de España por presiones??

Pues en vista de lo que les molestó a la caverna, os lo vuelvo a dejar por aquí...

DIFUNDE pic.twitter.com/K2qFUaQ6Pb

— ★Antídoto★ 🎗🔻 (@Yo_Soy_Asin) November 17, 2018
Published: 28 Nov 2018
What do you think?