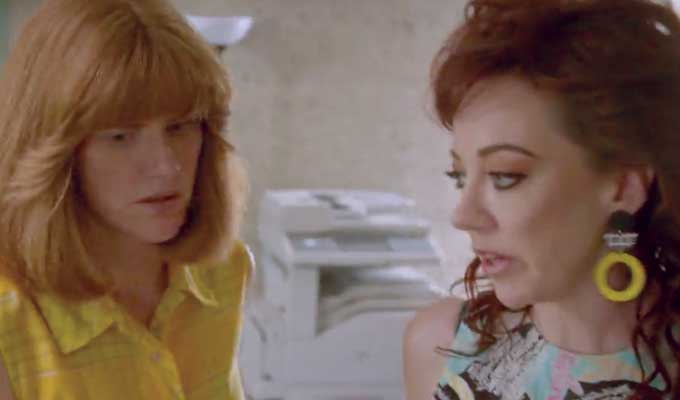 Diane Morgan and Robert Webb join Sarah Kendall's comedy
Diane Morgan and Robert Webb have joined the cast of Sarah Kendall's Sky comedy Frayed.
The news comes as the broadcaster releases the first clip of the series, set in 1989 and currently being filmed in New South Wales
Kendall plays, Simone Burbeck, a woman who seems to be living the perfect life, masterminding expensive renovations to her London mansion, dinner parties and school fundraisers.
But when her husband has a fatal heart attack in a disastrous session with a prostitute, the true state of their finances is revealed. Simone is broke, homeless and a social outcast.
With no other options, and two children to care for, she is forced to return to her family home in Newcastle, New South Wales, when it is revealed that her past isn't what she told everyone in London… including the fact that her real name is Sammy.
The clip shows Sammy being given a job as a PA, even though Morgan's character is already employed in that position.
Also joining the cast are Australian actors Kerry Armstrong and Ben Mingay.
Sky has commissioned six 45-minute episodes with ABC in Australia to air next year.
Kendall – who was born in Newcastle and lives in London herself – previously said: 'I just wanted to visit my family in Newcastle but I ended up shooting a six-part comedy here for the ABC and Sky. I'm incredibly excited to be given this opportunity. And I also love free flight.'
Production credits
Written by: Sarah Kendall
Produced by: Merman in association with Australia's Guesswork Television for he Australian Broadcasting Corporation and Sky in association with Create NSW
Directed by: Shaun Wilson and Jennifer Leacey.
Produced by:Nicole O'Donohue
Executive producers: Clelia Mountford and Sharon Horgan (Merman) and Kevin Whyte (Guesswork Television)
Commissioned by: Sky's executive producer Morwenna Gordon. ABC executive producers Rick Kalowski and Que Minh Luu.
Published: 19 Nov 2018
What do you think?