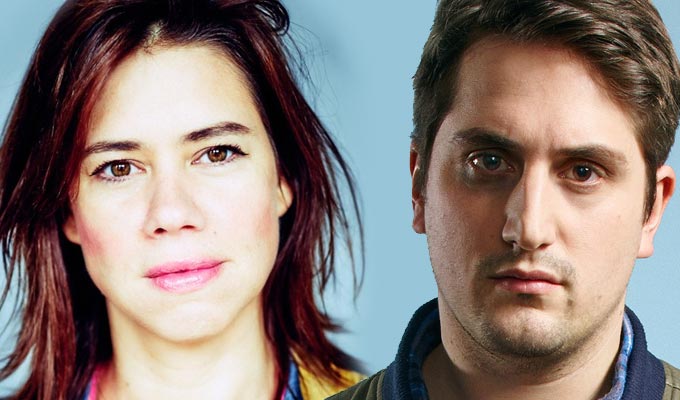 Warning: These are not real doctors
This week's comedy on demand.
Why Is Your Bottom So Dirty?
Don't let the name put you off, this very funny, and more than a little bit random, podcast returns after a four-month hiatus. Luke McQueen, and Lou Sanders play Dr Benjamin Jones and Claire Cares discussing matters medical. Sort of. Their first patient is robotics industry professional Ken Himomito (or a man who 'makes fake people out of metal'), played by Phil Wang. Listen here
Brian and Roger
Not sure how this passed us by, but the first series of this sitcom-style podcast has just come to an end. Created by Toast Of London star Harry Peacock and Dan Skinner, the man behind Angelos Epithemiou, Brian and Roger revolves around two divorced men who meet at a support group, as both are finding their new single life especially difficult. Get all ten episodes from iTunes or Acast
Hounslow Diaries
One of this year's batch of BBC Three Comedy Slices, this warm and wry comedy drama about three three excitable Muslim teenage girls living in West London was adapted from star Ambreen Razia hit play. She stars alongside Mandeep Dhillon and Robyn Cara in the 18-minute short revolving around their attempts to have a night out at a fancy West End club with a VIP bar. Watch on iPlayer
We reported on this interview as part of the BFI's Comedy Genius season earlier this week – read our summary here. Now it's been posted online in its entirety:
John Leguizamo's Latin History for Morons
Calm down classicists, that's Latin as in Latin America, rather than the dead Roman language. In this Netflix special, John Leguizamo takes on the role of a professor attempting to find a Latino hero for his son – which allows him to offer a sharp commentary on the history of the region. The show had a successful Broadway run last year and is now on Netflix here.
And here is a trailer:
The Comedian's Guide to Survival
The 2016 movie based on James Mullinger's time in the lower reaches of the London comedy circuit returns to Amazon Prime. It stars James Buckley from The Inbetweeners and Zapped as the struggling stand-up, and features cameos from a host of familiar comedy faces.
Here is our review, and you can watch the movie here.
Published: 10 Nov 2018
Recent News
What do you think?