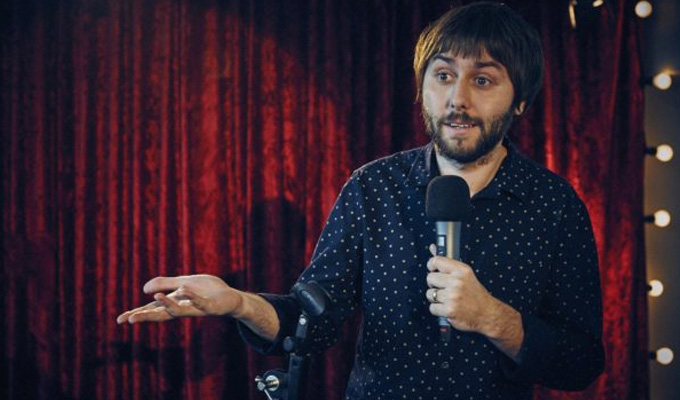 The Comedian's Guide to Survival
Note: This review is from 2016
Had you asked even as recently as couple of years ago which British comedian would be the subject of a feature film, surely no one would have said James Mullinger. Even now all but the most intense comedy-watchers will likely be asking: 'Who?'
Until he moved to Canada in early 2004, Mullinger was among the circuit's cannon-fodder; one of the scores, if not hundreds, of acts making little more than pennies travelling the country doing stand-ups in pub back rooms. Even in his act, there was little to distinguish him: a perfectly OK comic, no more, no less.
The Comedian's Guide To Survival harnesses that unremarkableness. As played by The Inbetweeners' James Buckley, the fictional Mullinger is an ordinary comic who isn't doing that well – having made the sacrifices to pursue this emotionally, physically and financially draining activity, there's no sign of artistic or financial breakthrough on the horizon, quite the opposite.  Everybody loves stories of stand-ups dying on stage or being bested by hecklers, and this film is full of them.
There is a litany of bad gigs: from the corporate night where the audience's attendance was mandatory – to the one where he wet himself, adding to the humiliation of facing a room full of angry punters despising his very existence. Some real-life stand-ups make appearances in such scenes, chief among them Richard Sandling as a slobby joke thief.
What the real Mullinger had was both tenacity and the chutzpah to use his day job as photo editor for GQ magazine as leverage for his career; interviewing his heroes, gigging at Montreal's Just For Laughs for the sake of a feature, and organising GQ comedy galas so he could perform on a bigger stage than he'd otherwise get.
Movie Mullinger works for an upscale men's magazine, too, COQ, under the vicious gaze of editor Phillip – portrayed a truly memorable grotesque by Paul Kaye, a pit of unpredictable venom and vicious insults and generator of at least half of the funniest moments of the film, of which there are plenty.
Despite the vitriolic animosity, not to mention Mullinger's lack of interest in the job and propensity to fall asleep at his desk after late-night gigs, Phillip offers him a promotion – a credibility-stretching plot point – with the caveat that he gives up the comedy, 'or being an unfunny twat' as he delicately puts it. Mullinger's missus would be delighted if he quit too, after spending another night alone with the kids (in a home, incidentally, that looks way too swanky for a jobbing comic, even one with a day job).
As part of his new brief, Mullinger is charged with putting together the magazine's comedy special, which involves him interviewing a lot of his heroes – cameos here from Omid Djalili, Brendon Burns, Gilbert Gottfried, Mike Wilmot and many more – as well as being despatched to LA and Just For Laughs to land the star names.
The real Mullinger (and his naked backside) makes an appearance Stateside as a hedonistic, whisky-chugging big-shot, while Kevin Eldon is the movie's second scene-stealer as the thick-skinned Californian chauffeur hilariously trying to figure out whether his charge is displaying that famed British sarcasm or not. There's also a strange diversion featuring an unrecognisable Mark Heap as a redneck truck driver.
Just when you wonder whether Mullinger's character is ever going to move forward, a chance encounter with an ice-queen of a Hollywood agent, played by MyAnna Buring, finally gives Mullinger a couple of breaks, which he may or may not stuff up. Tellingly, he never appears to get that much better at comedy; it's just that the results are better – although there's sensibly not much stand-up in the film, given the  medium's reputation for portraying live comedy badly.
The final act's saccharine 'don't give up the dream' advice is cheesy, despite the film's halfway-successful attempts to head it off. Until then, it's a rather strange hybrid of set-piece sketch-like scenes played for laughs; amusing, apparently improvised comments from the real-life comics doling out advice; and a more straightforward follow-your-heart narrative. Yet the chimera works surprisingly well, with a generous supply of genuine laugh-out-loud moments, courtesy of some outlandish scenarios.
Films about comedians are rarely funny, but The Comedian's Guide To Success breaks that curse by taking the angst and insider jokes of Louis CK's Louie and playing it broader, less arthouse. It's flawed, but with the movie taking its own advice about persistence, director and writer Mark Murphy more than gets away with it.
• The Comedian's Guide To Survival is out on Friday.
Review date: 25 Oct 2016
Reviewed by: Steve Bennett
Recent Reviews
What do you think?