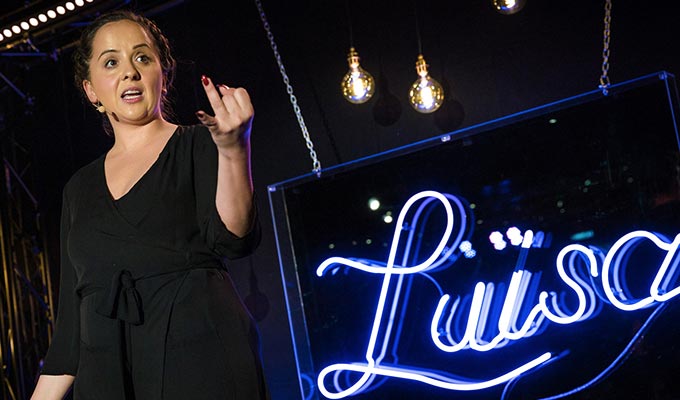 Bafta names Luisa Omielan as a Breakthrough Brit
Stand-up Luisa Omielan, Timewasters co-creator Daniel Lawrence Taylor and Young Offenders star Chris Walley have made this year's list of 'breakthrough Brits' compiled by Bafta.
They are among 19 performers, writers and other creatives that the organisation has deemed 'ones to watch'.
In their citation for Omielan, whose TV series Politics For Bitches has just started on BBC One and BBC Three, Bafta said: 'Luisa fought tooth and nail for her platform in comedy and she's not going to waste it.'
They cited her 'endless rejections from agents and drama schools' and the graft she put in on the comedy circuit before her breakout Edinburgh show What Would Beyonce Do? propelled her onto the International Stand-Up circuit.
Bafta says: 'Luisa has no interest in cheap laughs. Her comedy is about things that matter, everything from body dysmorphia (her famous thigh gap joke went viral), to male suicide and cancer.'
On receiving the Bafta recognition, she said: 'I didn't realise how powerful stand-up could be. I get to tackle issues that are huge. In my current show I'm talking about cancer and euthanasia and cannabis oil and my mum dying and really horrible, tragic situations.
'Comedy enables people to listen, it opens people up, and if you can deliver something important by making people laugh you can have such a big impact.
'Comedy is almost a rebellious artform, it's kind of anti-establishment and anti-industry and I've done everything kind of that way. And it's really amazing that it's come full circle and I'm getting support from Bafta.
'It can be quite frustrating in the industry: they can love your live stuff and then transferring it to television it's gets watered down and diluted and diluted and diluted until you don't recognise it, and you go, "this isn't my body of work".
'So I'm hoping with something like Bafta, they are going to go, "We'll give you a bit more faith to create something that's a bit more genuine and authentic".'
Lawrence Taylor started off in comedy in a double act called Ginger and Black with Eri Jackson before landing roles in shows such as Uncle and Hunderby.
He said: 'Before I thought writing a sitcom was so alien to me, but having acted in so many sitcoms you learn the mechanics and you learnt "yes I can actually do this".'
Walley said it was 'a massive honour' to be included in the Breakthrough Brits last, 'especially to be an Irish person in and amongst this is something I'm very proud of.'
Breakthrough Brits receive mentoring to help them get to the next stage of their career. Previous recipients include This Country's Daisy May Cooper,
Also on the 2018 Breakthrough Brits list are games producer Adrienne Law, presenter Annie Price, writer/director Daniel Kokotajlo, director Ellena Wood, producer Fodhla Cronin O'Reilly, artist and game developer Harry Nesbit, game developer Jay Armstrong, actress Jessica Barden, technical and creative director duo John Campbell and Katie Goode, writer/director Lucy Cohen, studio founder Lottie Bevan, director Michael Pearce, actor Paapa Essiedu, actress Ria Zmitrowicz, and cinematographer Vanessa Whyte.
Published: 1 Nov 2018
What do you think?