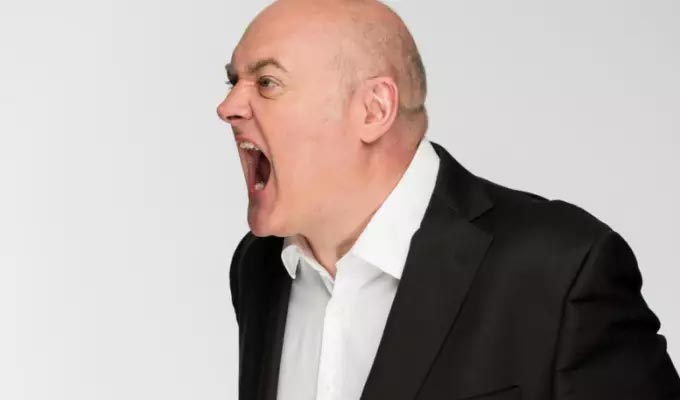 Feel the benefits
Two massive West End comedy benefit gigs have been announced this morning.
Rob Brydon, Dara O Briain, Harry Enfield and Greg Davies are among the big-name acts taking place in 100 Hearts, a night of comedy raising money for medical causes at the London Palladium on February 13.
Meanwhile, Stewart Lee, Nish Kumar and Simon Amstell are performing at a separate fundraiser for refugees at the Playhouse Theatre on December 9.
The 100 Hearts gig will be hosted by Clive Anderson and also features a rare live appearance by Angus Deayton, as well as sets from James Acaster and The Mash Report's Rachel Parris.
Other confirmed acts include Omid Djalili, Jess Robinson, Sindhu Vee, Ahir Shah and Ken Cheng with music from Chris Difford from Squeeze.
The evening is produced by composer and actor Philip Pope, Deayton's former co-star in Radio Active. The 1980s comedy troupe will be reunited at the show, with Michael Fenton Stevens, and Helen Atkinson Wood also appearing, including a performance from their spoof band the Hee Bee Gee Bees.
It will raise money for the Royal Brompton & Harefield Hospitals' transplant programme and cystic fibrosis appeal.
O Briain said: 'Heart and lung disease can affect any of us and Royal Brompton and Harefield Hospitals are the largest specialist heart and lung centre in the UK.
'So, I wanted to do something that would raise them a big chunk of money and while I have been told that laughter is actually the best medicine, I promise to leave the treatments to the doctors and nurses, this time.'
This is the third 100 Hearts gig Pope has organised, and he says it will be the last. The two shows have raised more than £500,000 for the charity.
Pope and his wife Rosie's son Will was saved by a heart transplant at Harefield Hospital on New Year's Eve in 2012, at the age of 20.
He said: 'It's hard to believe that six years ago our son Will was in hospital with heart failure, not knowing if he would survive even a few days.
'Thanks to the generosity of his donor, the skill and dedication of the surgical team and life-saving new equipment, he is now leading a normal, healthy, active life. He's been given a second chance.
'With the help of an amazing cast of comedians and musicians, 100 Hearts is our way of contributing to Royal Brompton & Harefield Hospitals' continued excellence, by funding ground-breaking technology - so that others may get that same chance.'
Tickets go on sale at 10am on Friday.
Meanwhile, tickets for the Help Refugees benefit in December have just gone on sale here.
The line-up for this show also includes Angela Barnes, Sofie Hagen, Rose Matafeo and Mawaan Rizwan
Help Refugees are a grassroots organisation of everyday people helping to improve the lives of refugees.
Its chief executive, Josie Naughton, said: ' "We are absolutely overwhelmed by the support of all the brilliant comedians coming together to help raise funds for refugees this winter.
'Freezing temperatures are just around the corner and people need warm clothes, blankets and nutritious food to stay healthy and safe. This night is all about laughter and love, bringing people together to have a great time while doing something practical to help.'
Published: 31 Oct 2018
What do you think?