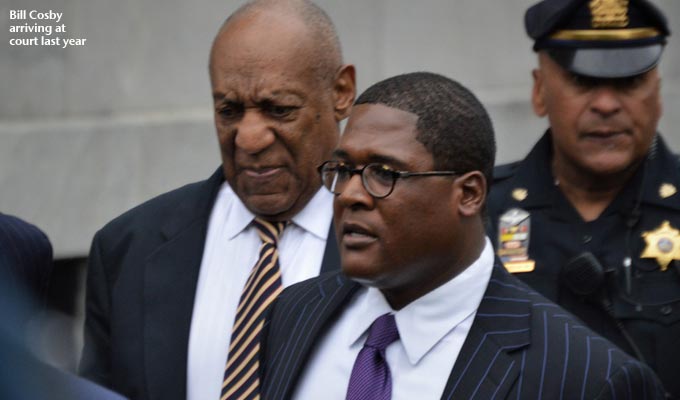 Bill Cosby sentenced to three to ten years
Bill Cosby has been jailed for three to ten years for drugging and sexually assaulting Andrea Constand more than a decade .
The sentence comes five months after Cosby was convicted of the aggravated indecent assault of Ms Constand at his Philadelphia home in 2004
He originally faced three counts, but prosecution and defence agreed to merge them into one for sentencing purposes at Montgomery County Courthouse in Pennsylvania.
Earlier today, judge Steven O'Neill's ruled that the 81-year-old comedian – who once revelled in the image of being 'America's dad' – is a 'sexually violent predator'.
That decision means his name will appear on the sex-offender register and have to undergo counselling for the rest of his life.
And the sentence is in line with what prosecutors had sought.
Ms Constand – a former administrator at Temple University, where Cosby was once a student – is the only person to have brought an allegation that has resulted in a conviction. But more than 50 other women also have accused the comedian of sexual abuse going back decades, but most allegations date back too far for prosecution under the statute of limitations.
Yesterday, she told the court: 'The jury heard me. Mr Cosby heard me. All I am asking for is justice as the court sees fit.'
But int her witness impact statement, she also said that the attacks on her character since she spoke out against the comedian left her with 'insurmountable stress and anxiety'.
Prosecutors had asked for the maximum prison sentence of between five and 10 years, citing the nature of Cosby's crime as well as his alleged history of misconduct.
Cosby's lawyers had asked for house arrest rather than prison time given his age, and argued the risk of him reoffending is 'extraordinarily low'.
Published: 25 Sep 2018
Recent News
What do you think?