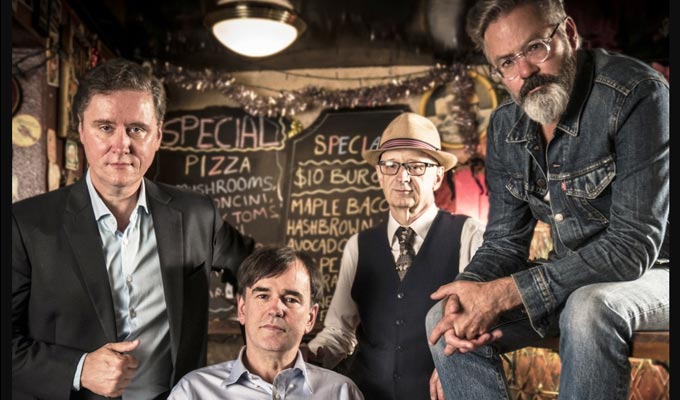 When comedy's young punks got old
Australian comedy sensations the Doug Anthony Allstars are to be the subject of a primetime documentary in their homeland.
Tick F***ing Tock is about how the bad boys of comedy split up in 1993 when Tim Ferguson unexpectedly pulled the plug, breaking the hearts of Paul McDermott and Richard Fidler.
But almost 20 years later they discovered Tim had multiple sclerosis and put aside their differences to reunite.
The story is to be told in the new two-part series which screens on Australian state broadcaster ABC from Tuesday October 2.
The broadcaster says it is the first time the trio discuss why the group broke up and the sadness of watching Tim deal with his debilitating illness.
And they describe the documentary as 'an enduring love story between Tim and Paul, two of our greatest creative minds with the same confrontational attitude they've always had'.
Paul 'Flacco' Livingston, who took over from Fidler for their comeback – including their acclaimed Edinburgh Fringe runs in 2016 and 2017, said: 'You can't help seeing what's going on between these two guys and how long they've been together and what they've been through and they're still going through. It's a really, really moving thing for the audience, you know I've got to admit it, it occasionally gets to me as well…'
He added that the Allstars act is now about 'falling apart, about being old, about not being able to cope any more. It works really well because we are not really acting. None of us.
The series is curated by comedy producer and director Ted Robinson, who gave the Allstars their first Australian break on the TV programme The Big Gig.
Episode one focuses on the group's heyday. From buskers on the streets of Canberra in the mid-1980s, they quickly stars in the UK after storming the 1987 Fringe. But they remained relatively unknown down under until their Big Gig performance two years later.
The second episode covers their return to the Edinburgh comedy festival, with Paul joking about Tim's MS, and Tim in turn assuring the audience he will probably die before them.
No UK broadcast for the show has yet been announced.
---
The Allstars and me, by Ted Robinson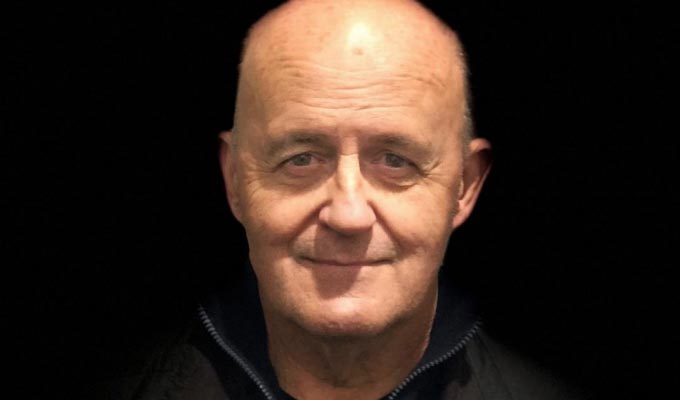 I first came across the Doug Anthony Allstars in 1985 – a year after they formed. I was in Adelaide for the comedy festival and heard about a new cabaret group from Canberra who were tearing up the tents of the Fringe with their soul-searing version of the Marvin Gaye classic, I Heard It Through the Grapevine.
I arrived too late to catch the Grapevine song but not too late to witness an audience saturated in alcohol and sweat. One punter was still on stage, a semi-naked sacrifice to the Dougs' shenanigans. I made a mental note to go back and check out the 'Grapevine Guys'.
Four years later as head of ABC Comedy, I was casting acts for a new live show for the ABC, The Big Gig. The ABC was terrified of the risk they were taking with a live show that they could not control. Looking for new performers, I was taken to the Prince Patrick Hotel in Melbourne to see the Doug Anthony Allstars, and was surprised to realise they were the 'Grapevine Guys', and even more taken aback to see what talented, clever, vulgar, blasphemous, amusing, audacious, charming young punks they were.
I went backstage that night to sign them for The Big Gig, on the basis of this one performance. It was the start of lifelong friendships and working relationships with Tim Ferguson, Richard Fidler and Paul McDermott.
Paul hated me from the start and tried to pick an argument. The centrepiece of their show that evening had been a parody of Jesus Christ's crucifixion. By the standards of the 1980s, Paul rightly guessed that it was an unlikely choice for TV. I could see that he was about to fling it down like some deal-breaking gauntlet.I said: And that Jesus Christ piece…'
Paul snorted derisively: 'Oh here it comes. "Let's not do that. That's far too controversial for TV".'
And I said: "We should save that for Easter."
Paul was in.
Incidentally, we did do it for TV. And at Easter. And it was live.
The Allstars went on to appear in all 65 episodes of The Big Gig. Then it came time for their own show, DAAS Kapital, which I produced and directed. Eventually I clocked up 30 years of work with them, including theatre, TV debates, falling outs, arguments, successes and failures.
I was devastated when I finally heard that Tim had been diagnosed with multiple sclerosis. I had to go and read up on what MS actually was and what it meant for that bright, beautiful man.
It had saddened me that a lot of the Allstars' early work was from a pre-digital era and that their magic and talent hadn't been captured in a medium more impervious to the wear and tear of the ages.
These sentiments grew into a project that became energised by the surprise appearance of the new Allstars ... and morphed into this documentary series, Tick F***ing Tock.
---
Tick F****** Tock: The History Of DAAS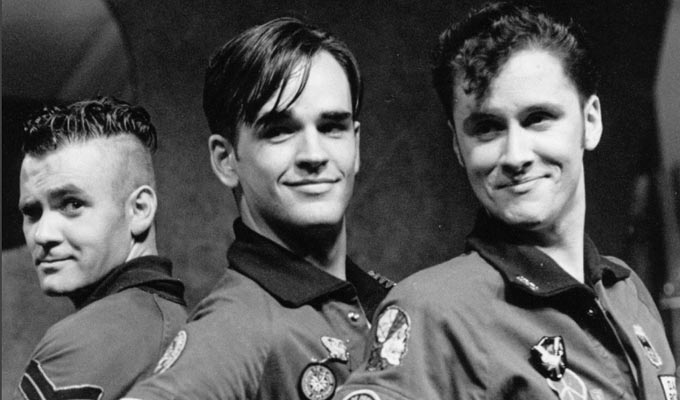 1984: Tim Ferguson meets Richard Fidler busking on the streets of Canberra as uni students. They begin performing with Robert Piper, and form the Doug Anthony Allstars. They derived their name from Doug Anthony, a former Deputy Prime Minister of Australia.
1985: Robert Piper leaves the group due to other commitments and is replaced by Paul McDermott.
1986: DAAS win their first major award, the Pick of the Fringe, at the Adelaide Fringe Festival, and move to Melbourne where they perform regular gigs at the Prince Patrick Hotel.
1987: DAAS make their first overseas performance at the Edinburgh Fringe, to sold out crowds.
1988: DAAS is nominated for the Perrier Comedy Award at the Edinburgh Festival Fringe. They begin appearing on major UK TV channels, in front of millions of people and playing enormous shows – in Canada, Germany, America and Britain. They finish their time in Britain with an appearance on the final episode of Channel 4's Friday Night Live.
1989: ABC comedy producer Ted Robinson invites DAAS to appear on his new live comedy show, The Big Gig.
1990: DAAS releases a book titled Book, a collection of dark short stories, and their first official album, DAAS Icon. The album becomes the highest selling independent album in Australia. Tim Ferguson stands as an independent candidate in the federal seat of Kooyong against Opposition leader AndrewPeacock.
1991: DAAS creates the new TV series DAAS Kapital for the ABC.
1992: DAAS returns to the UK, appearing regularly on Channel 4's Viva Cabaret show.
1994: Tim Ferguson tells Paul McDermott and Richard Fidler that he can't be in DAAS anymore. The group does a farewell tour of Australia, releasing the show on CD, called DAAS: The Last Concert.
1995: Tim is diagnosed with Multiple Sclerosis (MS).
2003: DAAS re-unites for a benefit gig at the Sydney Opera House.
2006: Tim tells Paul and Richard that he has MS.
2008: Tim does an interview with Paul on Good News Week, going public about his MS. A Doug Anthony DVD, titled The Unlimited Uncollectible Sterling Deluxe Edition, a two-disc collection of their performances from the first two seasons of The Big Gig, is released.
2013: DAAS re-unite for a performance at Melbourne Town Hall, to launch the ABC's DAAS Kapital DVD, as part of the Melbourne International Comedy Festival. Tim publishes his memoir, Carry a Big Stick.
2014: DAAS reform, with Paul Livingston replacing Richard Fidler as the guitarist, and perform at the 30th anniversary at the Canberra Comedy Festival.
2016: The new DAAS returns to the Edinburgh Fringe Festival and win the coveted Spirit of the Fringe Award. They perform sell-out shows at London's Soho Theatre. Their show is selected by Chortle as the second most memorable comedy gig of 2016. Paul Livingston publishes his memoir, titled DAAS: Their Part in My Downfall.
2017: DAAS return to the cobbled streets of Edinburgh (hell for a wheelchair) where fans such as Dawn French and Eddie Izzard come to their shows. They perform a final sell-out UK show at the Shepherd's Bus Empire before a star-studded audience, including musician Billy Braggand Blackadder's Tony Robinson.
Published: 12 Sep 2018
What do you think?