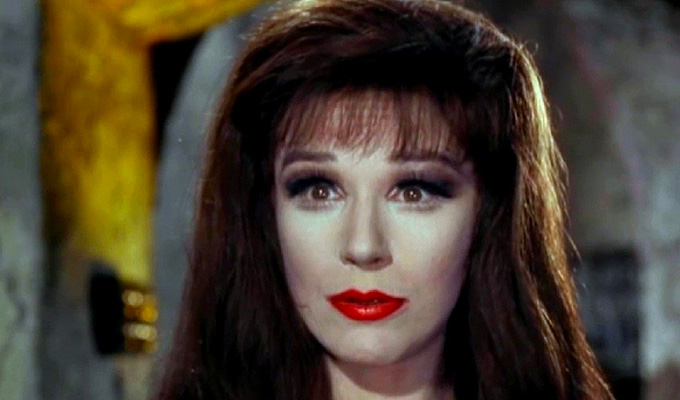 Fenella Fielding dies at 90
Fenella Fielding – who made such memorable appearances in Carry On Regardless and Carry On Screaming! – has died at the age of 90.
Her spokeswoman said she suffered a stroke two weeks ago and died today.
The statement said: 'We are very sad to announce that Fenella Fielding OBE passed away this afternoon. This follows a severe stroke two weeks ago.
'During that time, she has been very comfortable and always looked tranquil and divine. And always wearing her eyelashes.
'Miss Fielding was an incredible talent. That voice! A unique woman, much loved by family, friends and fans. She will be missed tremendously.'
Her career also included the The Morecambe and Wise Show and starring alongside Kenneth Williams in the stage comedy revue Pieces of Eight, written by Peter Cook and Harold Pinter.
However the good reviews she got, including one calling her 'a beautiful Butterfly of comedy' brought out Williams' jealousy and he would conspire to undermine her on stage.
In 1959, she appeared in Follow A Star alongside Norman Wisdom, but in her memoir, Do You Mind If I Smoke?, depicted him as a menace, writing that he was 'always making a pass – hand up your skirt first thing in the morning'.
Although she appeared in works by Ibsen, Shakespeare and Euripides, her public image is cemented in the vamp, Morticia Addams-inspired role of Valeria in Carry On Screaming!, and the work gradually dried up after the 1966 movie.
In an interview with The Guardian last year she complained about being typecast, saying; 'There are always people who don't think you should be able to climb out of your cave.'
Among those paying tribute tonight were Elstree Studios boss Morris Bright, who tweeted the anecdote that she asked Williams on the set of Carry On Screaming: 'Why is your bum so hard Kenny, do you leave it out at night?'
Actor James Dreyfus tweeted that she was a 'marvellous, adorable star,' adding: 'You will be much missed.'
Published: 11 Sep 2018
What do you think?