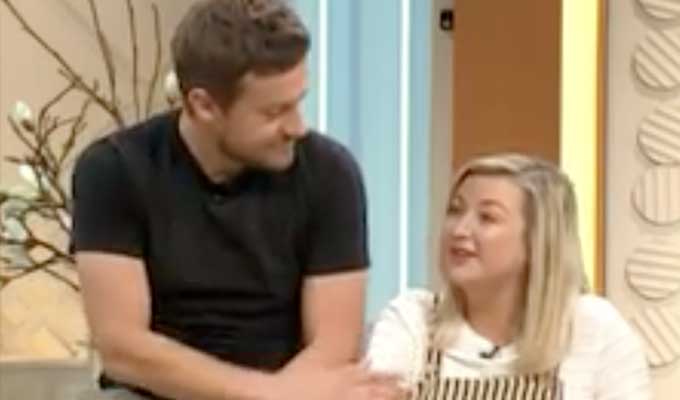 Chris Ramsey and his wife speak of their miscarriage
Chris Ramsey and his wife Rosie have spoken candidly about the miscarriage they suffered earlier this month.
In a frank and emotional interview on ITV's Lorraine this morning, the comedian disclosed how he continues to be hit by bouts of sudden sadness after the heartbreaking experience.
Talking to stand-in host Rochelle Humes, Rosie explained that she had to go into surgery after losing the baby, saying: 'You don't expect it at all. It's a crazy situation.'
Turning to her husband, she continued: 'You went into survival mode. I stayed in the house for a week and a half, cried, ate all the chocolate and kind of got over it. But you just had to keep going and now I feel like it's hit you.'
Chris added: 'Sometimes now – it happened yesterday – I'll go quiet and miserable for no reason, and she's like, "Are you all right?" and I say "I think so". It's just the emotions I think I'm all right, then I'll cry at Avengers: Age Of Ultron.
'It's going to take a while.'
He also explained how they came to learn the tragic news, telling Hulmes: 'We were pregnant, we went for the 12 week scan and there was a pregnancy sac but there was nothing in the sac. It's called a blighted ovum - it's like miscarriage, but your body didn't catch it. The worst bit of the whole thing is Rosie's body still thought she was pregnant.
'We talked about whether to go public with it and we thought, "let's do it" and we're so glad we did. The outpouring...so many people have miscarried and people don't know it because we don't talk about it.'
Rosie, 29, first revealed the tragic news on social media on August 13, posting a quote which said: 'There is a unique pain that comes from preparing a place in your heart for a child that never comes.'
In the caption, she wrote: 'Apologies for our silence across our social media's this week, it's safe to say we've had a pretty shitty one. Last week we thought we would be sharing some lovely news with you all but sadly that was not to be.'
'I know it is going to take time to come to terms with all of this, I feel emotionally and physically exhausted. I have so much sympathy for other couples who have/are going through this as I never knew it entailed so much heartache.'
At the time,32-year-old Chris, who has a two-and-a-half-year-old son, Robin with Rosie, shared her post and said: 'This it says it all. She's been a warrior.'
Many Lorraine viewers took to Twitter this morning to praise the couple for speaking of their experience with such honest.
Published: 30 Aug 2018
What do you think?