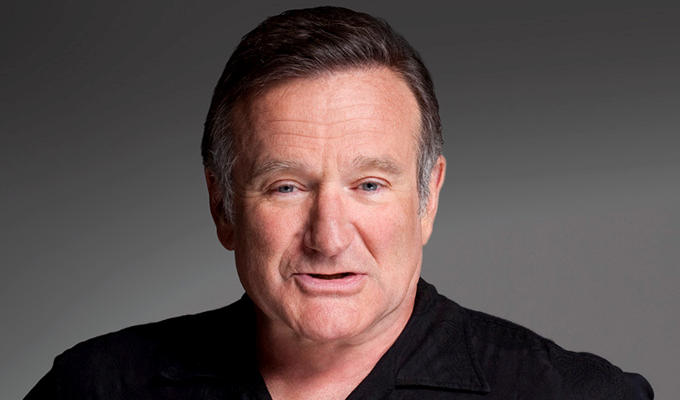 Inside the mind of Robin Williams
Sunday July 29
ROBIN WILLIAMS: COME INSIDE MY MIND: This major documentary of the late comedian was praised for being funny, intimate and heartbreaking when it aired on HBO earlier this month. Told largely through his own words, this documentary directed by Marina Zenovich explores Williams' extraordinary life and career, and celebrates what he brought to comedy through his wild days in late 1970s LA to his death in 2014. Sky Atlantic, 9pm

PERMISSION TO SPEAK, SIR? To mark 50 years of Dad's Army, Radio 4 Extra presents six episodes of the sitcom that Michael Knowles and Harold Snoad adapted for radio from the original television scripts, as the writers reflect on how the original television cast took to radio and discuss the changes that had to be made to make the scripts work. With Arthur Lowe, John Le Mesurier, Arnold Ridley, Ian Lavender and Clive Dunn.
YOU MUST BE JOKING: This 1965 Michael Winner film stars an amazing cast of comedy talent of the age: Terry-Thomas,Denholm Elliott, James Robertson Justice, Bernard Cribbins, Lionel Jeffries, Leslie Phillips, Irene Handl, Clive Dunn, Arthur Lowe, Norman Vaughan and Jon Pertwee. An eccentric psychiatrist oversees a 48-hour army-initiation test during which five competing soldiers are ordered to undertake strange challenges such as getting a singer's lock of hair, finding an electric rabbit (not like that, it was 1965) and much more. A prototype for Taskmaster, perhaps? Talking Pictures TV, 3.15pm
Monday July 30
NATALIE HAYNES STANDS UP FOR THE CLASSICS: The comedian and classicist returns for a fourth series of her Radio 4 show. In the first of four episodes she discusses Phryne, the Greek courtesan famed for her wit and beauty. Radio 4, 4pm
WE'RE DOOMED: THE DAD'S ARMY STORY: Another nod to the the 50th anniversary of the classic sitcom, as Gold airs a rerun of this BBC comedy drama about how the creators of Dad's Army overcame management scepticism, focus groups and cast constipation to get the show to air.. The channel is also airing classic episodes across the week.Gold, 7.15pm
Wednesday August 1
COMEDY CENTRAL AT THE COMEDY STORE: Tom Allen introduces Kiri Pritchard-McLean, Tez Ilyas and Tom Lucy in this week's stand-up showcase. Comedy Central, 1opm
BEYOND OUR KEN: Radio 4 Extra celebrates the 60th anniversary of the classic radio comedy, Beyond Our Ken, with the surviving 13 episodes of the very first series. The precursor to Round The Horne, it starred Kenneth Horne with Kenneth Williams, Betty Marsden and Bill Pertwee. Radio 4 Extra, 8.30am
DOUBLE ACTS: In the second episode of this Radio 2 documentary series, Christopher Biggins celebrates the double act of Cockney sisters Elsie and Doris Waters (whose brother Jack Warner found fame as Dixon of Dock Green), better known by their character names of Gert and Daisy. They pioneered a new kind of comedy; observational 'over the garden wall' gossiping, based on everyday life, their neighbours and their fictional other halves, Bert and Wally. The sisters moved onto BBC radio, becoming regulars on Workers Playtime, and made three films during the Second World War, while also touring to entertain the troops. Doris died in 1978, followed by Elsie in 1990 at the age of 97. Radio 2, 9pm
Thursday August 2
SUCCESSION: Created by Peep Show co-writer Jesse Armstrong, this new series is described as a 'bitingly funny, provocative new drama'. It stars Brian Cox as media magnate Logan Roy, who was expected to retire on his 80th birthday but shocks his family by announcing he's staying on indefinitely as CEO of his huge media conglomerate, prompting plenty of family fallout. Surprisingly, the series finds its way on to one of Rupert Murdoch's channels…. Sky Atlantic, 9pm
Friday August 3
WILL AND GRACE: New to Comedy Central is the series nine of the hit US sitcom, the comeback season after a 12-year hiatus which aired in the States from September last year. Comedy Central, 8pm.
Published: 29 Jul 2018
Recent News
What do you think?