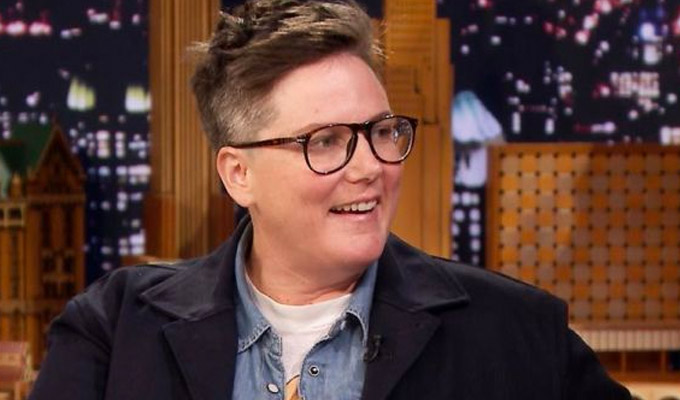 Hannah Gadsby: I'm not quitting
Hannah Gadsby has admitted she is not quitting stand-up – despite promising to do so after her acclaimed show Nanette.
The comic says her plan to walk away from comedy backfired because of the huge success of the special, especially after it landed on Netflix.
Speaking to Jimmy Fallon on his US talk show lat night, Gadsby said her plans for Nanette was for it to be 'a quitting show.... to drop a bomb and leave.
'I thought it would divide audiences,' she added. 'And it didn't. The plan's backfired.'
She has vowed never to perform the show again after a swansong at the Just For Laughs festival in Montreal tomorrow, explaining: 'It's on Netflix now I don't have to do it any more.'
But that will not be the end of her comedy career.
'Oh yeah, I'll do something,' she told Fallon. 'I said I was quitting, but if I quit [now], I'm an idiot.
'If the show had gone as badly as I'd planned it would have worked, but now I'm left with a choice: I'll either be an idiot or a hypocrite; and I would rather be a hypocrite.'
She also told of a strange text exchange with Emma Thompson, whom she met after a show – despite her usual policy of not meeting any audience members in case they try to give her a hug, which she dreads.
But one night her tech came backstage and said: 'I know you don't meet people but Emma Thompson's here so you don't have a choice.'
'I didn't really know who she was,' Gadsby said. 'I knew she wore a bonnet in something...'
And despite backing away from the actor's embrace, 'she gave me a hug anyway, which actually turned out to be quite pleasant.
'I think perhaps I did quite need a hug at that stage after doing the show again and again. It's quite a gruelling show.
'We ended up crying on each other's shoulders. Although I don't know what she was crying about, it's my life.'
'She gave me her phone number on those coffee cup cardigan things. And I thought, "I'm not going to call her". But somehow she got hold of my number.'
However, their first exchange was rather strange.
'I did not know she had sent me a text,' Gadsby explained. 'I was in the middle of texting someone else – for no good reason – a picture of Chuck Norris. And I accidentally sent it to Emma Thompson.
'So she sent me a text going, "That was an amazing show. You know it took me all night to process it. It changed my future of the world," and I'm like, "Chuck Norris, double denim!'
Here are the videos of Gadsby's appearance on NBC's The Tonight Show Starring Jimmy Fallon, which she admits is 'not my natural habitat':
Published: 26 Jul 2018
What do you think?