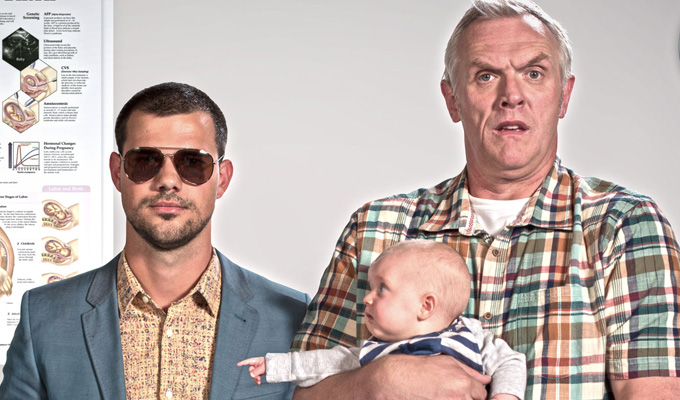 When is Cuckoo coming back?
The fourth series of Cuckoo is to land next month - two and a half years as it was announced.

All six new episodes will drop as a box set on BBC Three's iPlayer channel from 10am on August 2.

The series stars Greg Davies and Helen Baxendale as Ken and Lorna, the parents of Dylan (Tyger Drew-Honey) and Rachel (Esther Smith), who is in a relationship with Dale (Taylor Lautner).

Fans have had a long wait since series 4 and 5 were both announced in April 2016, soon after the third series aired, and there is still no word on when the final series will air.

The show started in 2012 and co-starred Andy Samberg, who left the series to make Brooklyn Nine-Nine and was replaced by Twilight star Lautner.

Episode one attracted almost 1.3million viewers, but the audience plunged after BBC Three moved online. According to Wikipedia, episodes of series three were seen by as few as 53,000 people in their first three days online.

The first three seasons are currently available on Netflix and iPlayer.

Here are the synopses of the episodes in series 4, provided by the BBC:

Episode One: Lawyer Of The Year

Ken (Greg Davies) has been nominated for Lichfield Lawyer of the Year. Unfortunately, his dastardly work rival Jane has been nominated too. Ken's convinced Jane is going to win, until Lorna thinks of a way to fix it…
Meanwhile, Dale (Taylor Lautner) is still enjoying his adopted home town of Lichfield and relationship bliss with Rachel (Esther Smith) - and he is thinking of taking the next step… Now Sid is in nursery Dale needs to think of what he's going to do for a job, while Rachel is not ready to settle down. She's still living with Lorna and Ken, tyrannised by her boss Nina and getting serious wanderlust.

Episode Two: The Licence

Ken finds himself suspended from work and tries to engineer a way back in before Lorna finds out. Lorna tells a little white lie and employs an underhand tactic to get Sid in to an exclusive local nursery. Meanwhile, it's full steam ahead for Dale and Steve's new bar - unfortunately for Rachel. But with the meeting to confirm an alcohol licence on the horizon, Rachel sees an opportunity to stop it from happening.

Episode Three: Ken's New Friend

It's an episode full of secrets for Ken when he complains about loud new neighbour Lloyd to the police, only to make great friends with him later.Meanwhile, Dale discovers that Ken has been suspended at work. Can Ken hide his snitching from Lloyd? Can he hide his skiving from Lorna?

Episode Four: Trapped

Ken wakes up trapped behind a newly built wall in Steve's Bar and is forced to wait it out till help arrives, with only Steve for company. Rachel and Dale grapple with a pregnancy scare while Lorna is surprised to find Dylan's new girlfriend is age-inappropriate - and worse still, an old friend.

Episode Five: Walkabout

When Rachel says she needs more space, Dale takes her at her word and strands her in the Pennines. Ken has only a day to save his job but is forced instead to rescue his daughter - and worst of all, has to ask his son Dylan for help.

Episode Six: Opening Night

It's the big opening night for All Steve's Pals, with Dale determined to make it the best launch ever and show Rachel he's the kind of serious safe bet she can spend her future with. Rachel's work has thrown up a different future for her and she's forced to choose between Dale and a dream job in Sierra Leone. Meanwhile Ken, now fired from work, is a man on a mission - with one last roll of the dice to get his job back…
Published: 21 Jul 2018
What do you think?