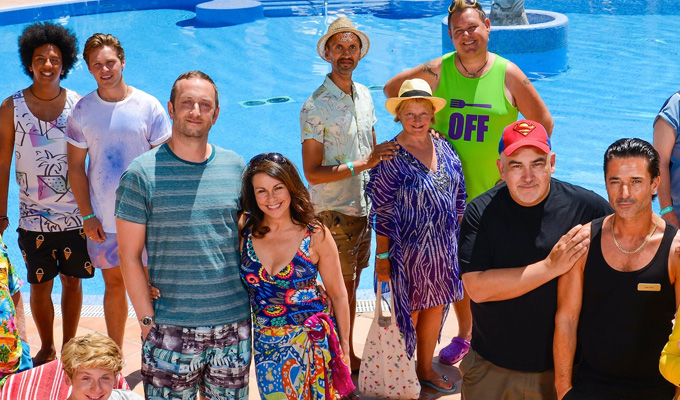 Adios Benidorm!
Benidorm has been cancelled after more than decade on air, creator Derren Litten has confirmed.
'Yes folks it's true,' the writer said on Twitter. 'After months of speculation, I can finally confirm Benidorm series 10 was the LAST EVER.'
'Don't cry because it's over, smile because it happened!'
He added that the next instalment of the sitcom's story would be told in the stage play, which begins a UK tour in Newcastle in September.
Yes folks it's true, after months of speculation, I can finally confirm Benidorm series 10 was the LAST EVER TV SERIES of @BenidormTVshow - but the story continues in the form of https://t.co/Yb02AXE0Jt - Come see us on tour and see what happens next! pic.twitter.com/NRASNwO85A

— Derren Litten (@DerrenLitten) July 5, 2018
He told BBC Radio WM: 'It is sad on one level, but for a show to run ten years these days is amazing and if people watched the last series, the last episode kinda leaves on a bit of cliffhanger and that story is directly continued in the live shows.
'I've been vague in the past but Benidorm has come to a graceful end.'
The show has been slowly losing viewers. At its peak it was one of ITV's biggest hits, attracting more than 8 million viewers. But series 10 ten ended in May with 4.1 million.
Cast member Tony Maudsley said: 'We also thought we were on for another series but @itv took us by surprise and made a different call in the end. Nowt we could do about that.
And co-star Sherrie Hewson added: 'Benidorm TV has finished so lucky to have been a part of this incredible show. The best job in the world down to amazing@DerrenLitten. He should be honoured with every award. Thank you to the wonderful cast and crew now.'
Johnny Vegas, Tim Healy and Steve Pemberton a have been among the cast with guest stars including Hale & Pace, The Chuckle Brothers and Jason Manford.
Published: 6 Jul 2018
What do you think?