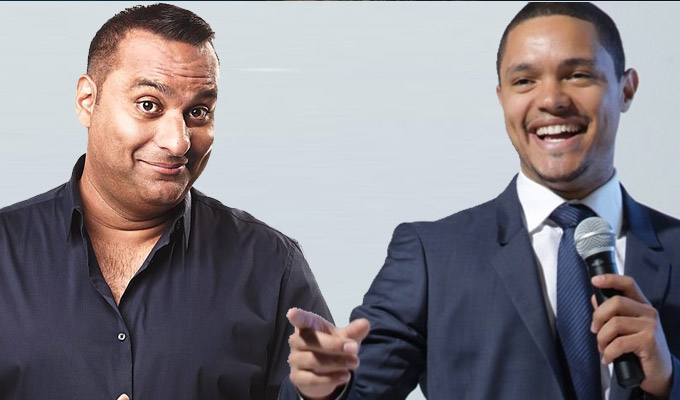 'He's a thieving MF'
Russell Peters has launched a new attack on Trevor Noah, again accusing him of being a plagiarist.
The Canadian first called The Daily Show host a joke thief in 2013, claiming he had lifted material from fellow South African comedians – although he later backtracked and claimed he had been 'pranking' Noah.
But in a new interview on American radio show Sway In The Morning, he renewed the accusations.
When host Sway Calloway mentioned he was a fan of Noah, Peters told him bluntly that he couldn't like them both.
'He's a thieving motherfucker,' Peters said. 'I called him out on it once before. I thought it would stop and it continued.'
Peters citied their routine about the Russian language to make his point:
But Peters was not the first to make such a joke – and conceded that Elon Gold had a similar routine:
But Peters insisted: 'I'd never seen Elon do it' before he came up with his own piece.
And he said that after he found out about the similarity, he called up Gold to make sure he was OK to continue with the bit.
Peters also said that Noah posted footage online of some crowd work he did on the set of The Daily Show. where he spoke to a Trinidadian woman in the audience and 'he does my whole fucking Trinidadian bit.. You grew up in South Africa, you never met a Trinidadian in your life!'
'I get real mad about this shit,' Toronto-born Peters said. 'I'm going to come off like the asshole here because he's the industry darling and everyone's going to be like, "oh, he's bitter". No, I just gotta get it our there… It needs to be said.'
Noah has not responded to the accusations.
Lee Mack has an even older routine about accents sounding like people were speaking backwards – but his joke applied to South Africans. It was included in in his 2007 tour:
Here's Peters on the Sway In The Morning show
Published: 3 Jul 2018
What do you think?